As a homeowner, you may not have the budget to overhaul your home completely. Luckily, there are other ways that you can still enhance the look and feel of your home, including improving your backyard. It's good to make a plan before you enhance your backyard because it can help you make better decisions about what you want to change and how much work you want to put into it. A plan can also help you stay organized and on track as you make improvements. Here are some ways to improve your backyard.
1. Bring in some color.
One way to add instant curb appeal to your backyard is to add some color. This can be done by planting flowers or adding a colorful garden flag or birdhouse. If you really want to make a statement, consider painting your fence or sheds. A fresh coat of paint can make a world of difference. Just be sure to use paint that is designed for outdoor use so that it will withstand the elements. Another way to add color to your backyard is to use outdoor fabric to make pillows, cushions, or even curtains for your patio or deck.
2. Add some lighting.
Adding some lighting is another way to improve the look of your backyard. Path lights are a great way to add interest and safety to your yard. Plus, they can highlight features you want to show off, such as a beautiful tree or flower bed.
Solar lights are a great option because they are inexpensive and easy to install. You can also add string lights or lanterns to create a beautiful ambiance in your backyard. Additionally, you can install floodlights to improve the lighting for activities such as grilling or entertaining.
Whatever option you choose, be sure to follow any city ordinances about outdoor lighting.
3. Create an outdoor living space.
If you have the space, consider creating an outdoor living room or dining area to enjoy your backyard. This can be done by adding a patio furnished with comfortable furniture and a fire pit or chiminea. A patio is perfect for entertaining or relaxing, and it can really extend the use of your backyard.
Even if you don't have much space, you can still create a comfortable outdoor seating area by grouping chairs and a small table. Don't forget to add some cushions and pillows for comfort. Adding an outdoor rug can also help to define your space and make it feel more like an extension of your home.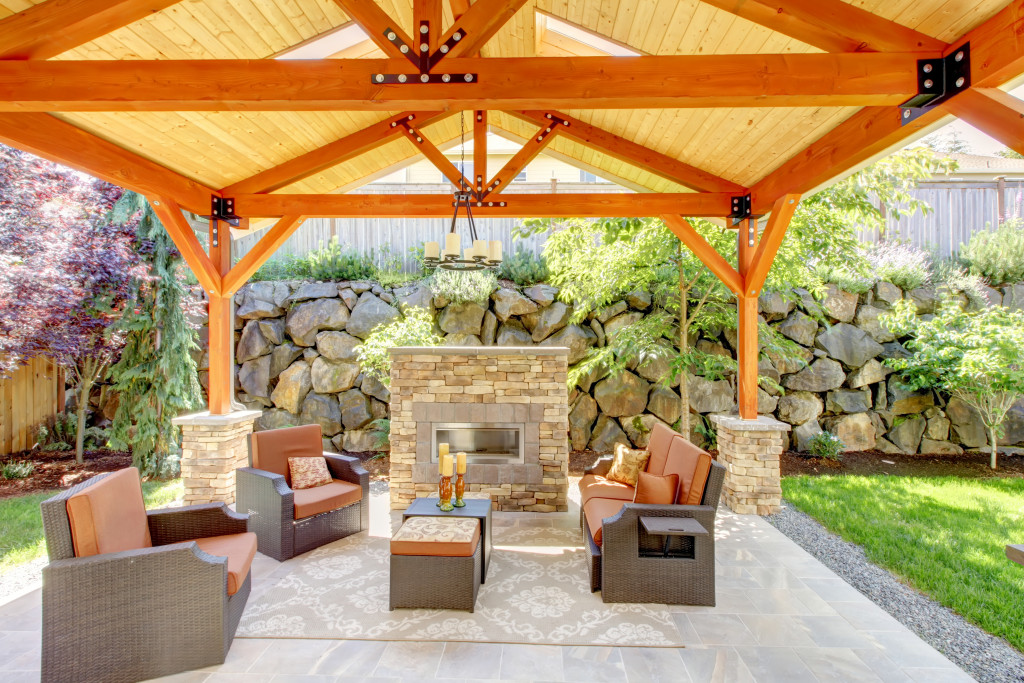 4. Add a water feature.
Adding a water feature to your backyard can really make it stand out from the rest. Water features add both visual interest and the sound of running water, which can be relaxing.
Fountains and ponds are always popular choices, but you could also consider adding a waterfall or other type of running water feature. In addition, you can add fish or other aquatic life to your pond for even more interest. If your theme is more xeriscape, you can add a dry river bed or other types of drought-tolerant water features.
5. Use some mulch.
Mulch is a great way to improve your backyard while also providing it with some much-needed nutrients. It enhances the look of your backyard by adding some color and texture. You can find bags of mulch at your local home improvement store. Spread the mulch around your plants and over any bare spots in your yard. This will help prevent weeds from growing and give your yard a finished look.
To keep your mulch looking its best, be sure to water it regularly and add more as needed. You may also want to occasionally stir it around to help distribute the mulch evenly. If you have any bare spots, be sure to add more mulch to those areas.
6. Increase your home's privacy.
If you live in a busy neighborhood or are close to your neighbors, you may want to add some privacy screens or plant some privacy hedges around the perimeter of your yard. Adding some trees or shrubs to your backyard can provide you with extra privacy and help improve your yard's look. If you live in an area where there are not a lot of trees, consider planting evergreens that will provide you with year-round privacy. This will give you much-needed peace and quiet when you spend time in your backyard oasis.
These are just a few ways that you can improve your backyard. By making some simple changes, you can create an inviting and attractive space that you will enjoy for years to come.