Upgrading Your Backyard will give you a more enjoyable outdoor space to relax and spend time with friends and family. It can also increase your home's value and make your property more attractive to potential buyers if you plan to sell in the future. So if you're thinking about upgrading your backyard, here are a few tips to help you get started:
Get Creative with Gardening
One great way to upgrade your backyard is by getting creative with gardening. You can add features like fun flower beds, a vegetable garden, or even a small pond. You can use different plants and flowers when adding plants, but make sure they'll thrive in your climate. You'll also want to consider how much sunlight and water each plant needs. Moreover, you can also consider how these plants will fit your specific style and taste. You can also mix and match different plants to create a unique look for your garden. If you're unsure about gardening, there's plenty of online resources and gardening books that can help you get started.
But if you want to take your gardening to the next level, you can also add decorative elements like statues, fountains, or benches. Ensure they're strategically placed, so they don't overcrowd your garden. Plus, make sure they're made out of weather-resistant materials, so they can withstand the elements. These accents can add personality to your backyard and make it a more enjoyable place to spend time in.
Install a Saltwater Pool
A saltwater pool will provide you a place to swim, relax, and enjoy the outdoors, especially on hot days. It provides you a natural and eco-friendly way to swim without harsh chemicals, making the water gentler on your skin, hair, and feel softer to the touch. However, you need to maintain the pool to keep the water clear, clean, and free from salt build-up. But you wouldn't want to go against your saltwater pool by using products that might alter its natural characteristics. That said, you can get a pH balance pool maintenance system that will keep your saltwater pool in pristine condition and help it last for many years.
Build a Deck or Patio
Building a deck or patio can be a great option if you're looking for a way to upgrade your backyard. A deck is a great place to relax and spend time with friends and family, and it can also be used for dining or playing games. Whereas patios are also a great place to relax and can be made of various materials, including concrete, stone, brick, or wood. Plus, patios can be custom-made to fit your specific needs and preferences.
When building a deck or patio, it's important to ensure that the foundation is solid and that the materials you use are weather-resistant. You can also consider adding outdoor furnishings to make the space more comfortable and inviting. For example, you can add a table and chairs for dining, or a couch and chairs for relaxing. Adding a fire pit is also a great way to make your backyard more enjoyable, and can also be used for cooking or entertaining.
Add a Shed
If you're looking for a place to store your tools and supplies, consider adding a shed to your backyard. A shed is a great way to keep your belongings safe and protected from the elements, and it can also be used as a workspace. Plus, sheds come in all shapes and sizes, so you can find one that will fit in your backyard and accommodate all your outdoor tools. This will help you keep your backyard organized and tidy.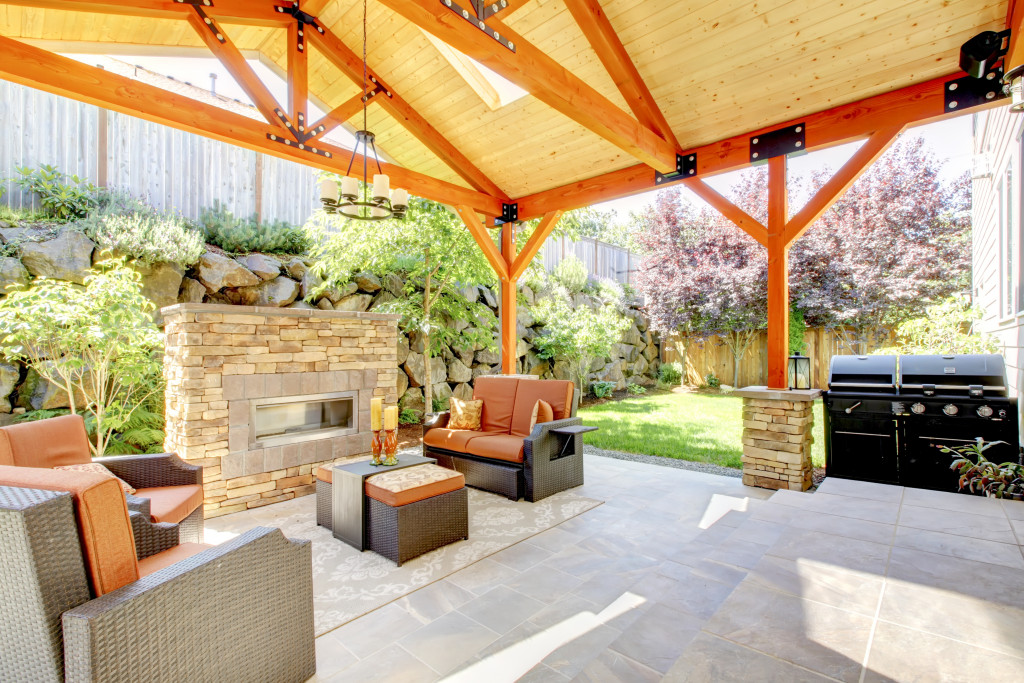 Create a Farming Plot
A farming plot is a great way to grow your own herbs and vegetables and can also be used as a source of fresh produce for your family. When creating a farming plot, it's important to ensure that the soil is fertile and that the plants have enough space to grow. You can also consider adding mulch or compost to the soil to help improve its fertility. Moreover, you'll need to water the plants regularly and protect them from pests and diseases. By growing your own herbs and vegetables, you'll not only have fresh produce available year-round, but you'll also be saving money on groceries.
Whatever features you choose, make sure that they will make you happy. After all, upgrading your backyard aims to create a space you enjoy spending time in. So take your time selecting the right features, and don't be afraid to mix and match different ones to create the perfect backyard.