If you're lucky enough to have a backyard, you know it can be a great place to relax and enjoy the outdoors. But if your backyard lacks luxury, you may not be getting the most out of it. Many people think building a luxury patio is out of their budget, but it doesn't have to be. With a little bit of planning and some expert tips, you can easily create a luxurious patio that will be the envy of your neighborhood.
Here are some expert tips for building a luxury patio in your backyard:
1. Plan ahead and budget for your project.
Building a luxury patio can be costly, so planning and budgeting for your project are essential. Determine how much you're willing to spend on materials and labor, and then find a contractor who can work within your budget. You want to be sure that you don't overspend on your project, as this can lead to financial stress.
Of course, the design of the patio is essential as well. Be sure to choose a style that you love, and that fits with your home's overall look. You may want to consult with an experienced architect to get started. They can help you create a custom design that fits your space and budget. Ask for referrals from friends or family who have built luxury patios before.
2. Use high-quality materials.
When building a luxury patio, your chosen materials will make all the difference. Luxury is never cheap, so you'll want to use high-quality materials that stand the test of time. Natural stone is always a good choice, as it's beautiful and durable. Other good options include brick, concrete, and flagstone. These materials are all very sturdy and will last for many years.
You can also use composite or manufactured materials, such as pavers, which are becoming increasingly popular. These materials look like natural stone but are much more affordable. They're also effortless to maintain. Depending on the style of your patio, you may want to use a combination of materials. For example, you could use flagstone for the flooring and pavers for the walls.
3. Incorporate features that add value.
When planning your luxury patio, be sure to incorporate features that add value to your home. For example, you might want to add a built-in grill or outdoor kitchen. This will make entertaining guests much more accessible and add value to your home. Other popular features include fire pits, outdoor heaters, and pergolas. These features can make your patio more enjoyable and increase your home's value.
If you have the budget, you might also want to add a water feature, such as a fountain or waterfall. This can take your patio to the next level. But don't forget the basics! Make sure your patio has enough seating for your guests and plenty of shade. These are essential features for any patio, luxury or not.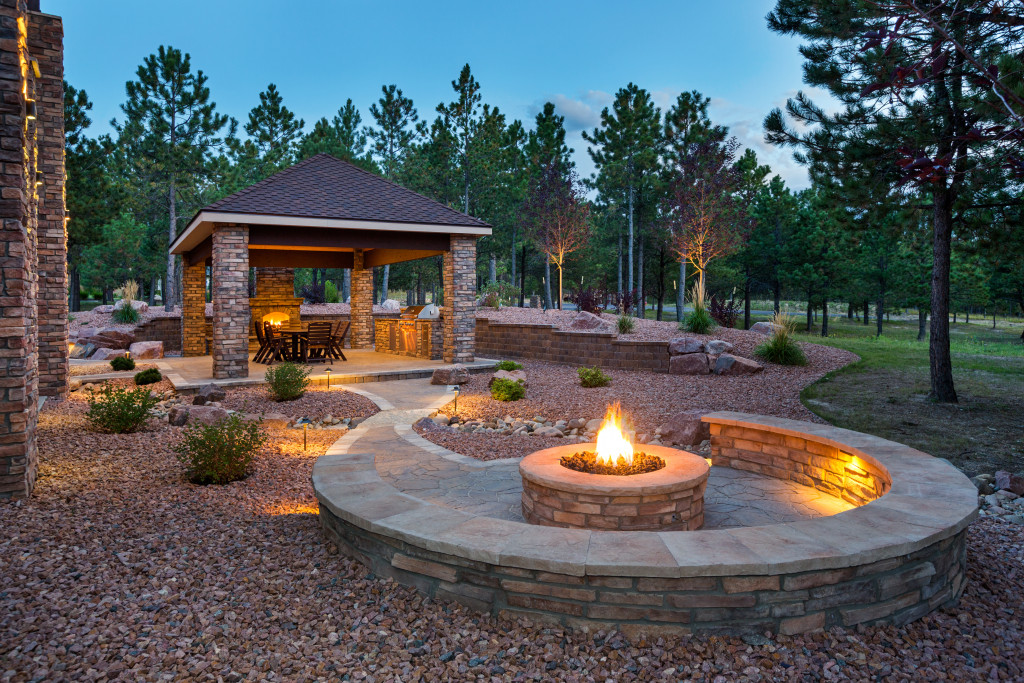 4. Hire a professional contractor.
When building a luxury patio, it's important to hire a professional contractor with experience with this type of project. This is not a do-it-yourself job. It would be best if you made sure that the foundation is level and that the materials are installed correctly. A professional contractor will also be able to advise you on the best materials to use and help you stay within your budget.
Don't be afraid to ask for referrals from friends or family. And be sure to read online reviews before hiring a contractor. You want to be sure that you're working with a reputable company that will do a great job. Talk to several different contractors before making your final decision.
5. Create a maintenance plan.
Once your patio is built, you'll need to create a maintenance plan to keep it looking its best. Depending on your materials, this could be as simple as sweeping it clean and hosing it down regularly. Or you might need to seal or stain the materials to protect them from the elements.
It would be best if you also planned on repainting or staining your patio furniture every few years. This will help it last longer and stay looking its best. With a little bit of care, your luxury patio will be able to withstand the test of time.
Follow these tips, and you'll be well on your way to building the perfect luxury patio for your home. Just be sure to work with a professional contractor and use high-quality materials. With a little bit of care, your patio will be the envy of the neighborhood. Always remember to stay within your budget and create a maintenance plan to keep your patio looking its best.