Paint, furniture, and decor can make your old home feel new. It's a great way to refresh the atmosphere without spending much money. A few small changes can significantly affect how you feel about your home. But before you pick up a brush or start buying new furniture, there are a few things you need to know.
This guide will walk you through the entire process, from picking out the perfect paint color to getting the appropriate furniture for your design.
Paint your walls a new color.
One of the easiest and most affordable ways to refresh the atmosphere of your home is by painting your walls a new color. This can be a great way to brighten up a room or create a new look for your home. Before you start painting, it's important to choose the right color.
There are many different factors to consider when choosing a wall color. The first thing to consider is the mood you want to create in the room. For example, warmer colors like red and yellow create a cozy and inviting atmosphere. In comparison, cooler colors like blue and green can make a room more calm and serene. Another thing to remember is the amount of natural light in the room. If a room gets a lot of sunlight, you might want to consider a lighter color to help reflect the light.
Replace your furniture.
When it comes to furniture, it's important to choose pieces that fit your design style, and that will make your home feel new again. You don't have to spend a lot of to do this-just. A few key pieces can make a big difference.
For example, if you're going for a contemporary look, try adding a new coffee table or end table. Or, if you want to give your bedroom a fresh start, consider replacing your nightstand or dresser. These are just a few ideas to get you started-the possibilities are endless! You can also opt for getting some furniture re-upholstered with interior design in mind, which can add both comfort and style to your home. So whether you're looking to update your space or simply add some new pieces, don't be afraid to experiment until you find the perfect furniture for your home.
Add some new decor.
One easy way to add some new decor to your home is by using plants. Plants can not only brighten up a room but also improve the air quality. Many different plants are perfect for indoor use, so choose the ones that best fit your style and personality.
Another great way to add new decor to your home is by hanging artwork. This is a great way to personalize your space and add color and life to your walls. If you're unsure where to start, try looking for artwork online or in magazines. You can also find a variety of affordable artwork at local stores or flea markets.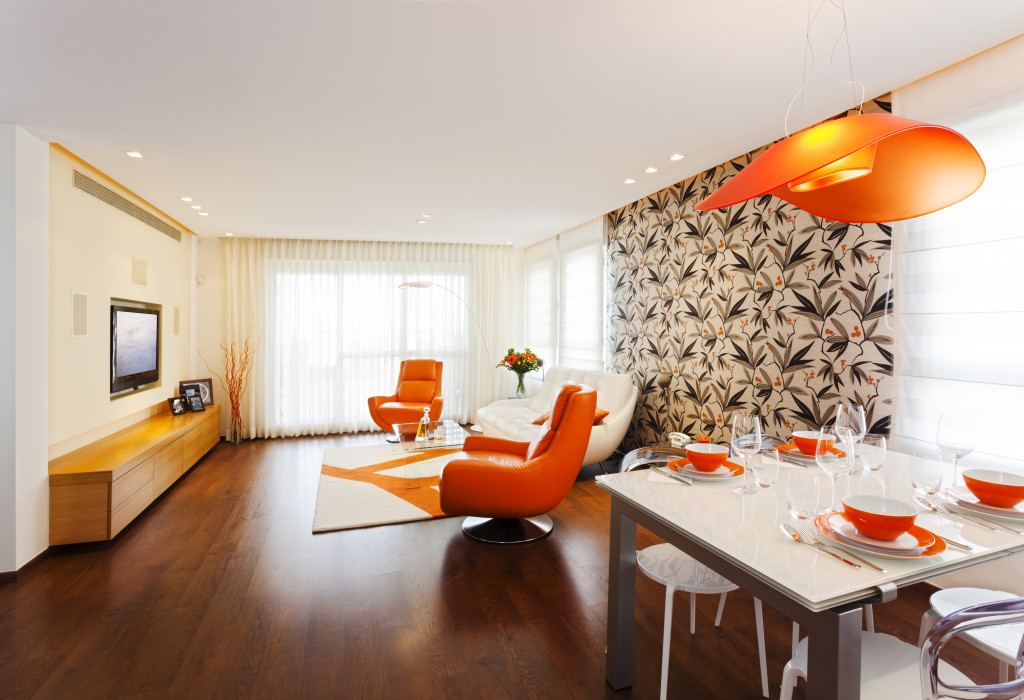 Change your window treatments.
Window treatments can have a big impact on the atmosphere of your home. If you're looking for a change, consider updating your window treatments to something that fits your style. This can be as simple as buying new curtains or blinds or as complex as installing a new window treatment system.
Whichever route you choose, new window treatments can help refresh the look and feel of your home. Plus, they can provide additional benefits like improved privacy, light control, and energy efficiency. So if you're ready for a change, look at your window treatment options and find something right for you.
Get a new rug.
One of the easiest ways to add new decor to your home is by getting a new rug. Rugs can help define a space and add color and style to any room. Plus, they're a great way to warm your floors in winter.
When choosing a rug, it's important to consider the size of the room and the furniture in the room. You don't want a rug that is too small or too big. And you want to ensure that there is enough space around the rug to walk comfortably. Another thing to consider is the material of the rug. If you have pets or children, you might want to choose a rug made from durable materials that can stand up to some wear and tear. There are many different materials to choose from, so take some time to research what would work best for your needs.
Last Words
With these simple tips, you can give your old home a fresh new look that will make you feel good about it again. So get started today and enjoy your refreshed home!