Every now and again, we often feel the urge to renovate our homes. Whether it's a fresh coat of paint or a full-on renovation, there are some things you should never forget to include. And no matter how old your home is, there are a few renovations that are always worth doing.
By making these upgrades, you can improve your home's comfort, safety, and efficiency – and may even increase its value if you ever choose to sell. Here are some of the most important improvements in every renovated home.
A Fresh Coat of Paint
One of the simplest and most effective ways to renovate your home is by giving it a fresh coat of paint. New paint can brighten up any room and make it feel new again. It can even modernize older homes and make them feel more contemporary. And if you're looking for a quick and easy way to update your home's look, painting is definitely the way to go.
Of course, not all paints are created equal. So before you start painting, be sure to do your research and find the right paint for your needs. There are a variety of paints available on the market these days, so it's important to find one that will best suit your needs. Whether you want a high-gloss finish or a matte finish, there's paint out there for you.
New Flooring
Installing new flooring is a fantastic method to update any space in your house, and if you ever want to sell it, it may even increase its value. When choosing new flooring, take your time and pick a material that best suits your needs. Different materials have different benefits, so it's important to find one that will work best for you and your home.
Hardwood floors are a popular choice for many homeowners because they add a touch of elegance to any room. Carpet is another popular option for those who want a cozy, comfortable feel in their home. Many types of tile flooring can give your home a unique, stylish look. When you're ready to install new flooring, be sure to consult with a professional to ensure that the job is done correctly.
Window Treatments
If you're looking for an easy way to update the look of your home, new window treatments are a great way to go. Old, outdated window treatments can make your home feel dated and need an update. And if you're looking to increase the value of your home, new window treatments are definitely a smart investment.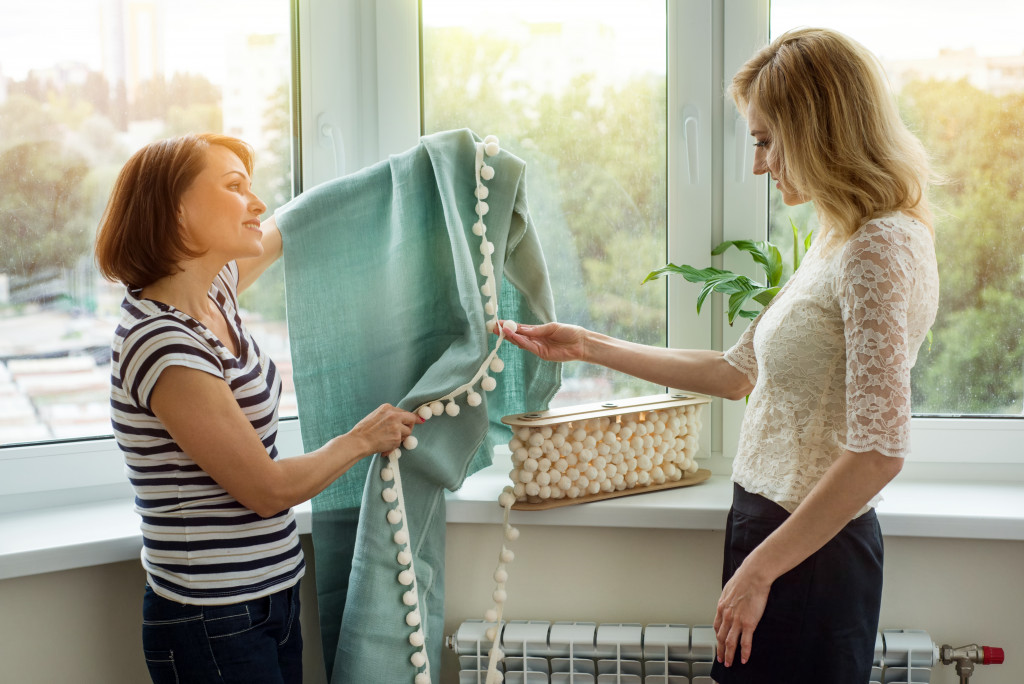 There are many options for window treatments, so it's important to research and find the right one for your home. If you have small children or pets, you'll want to find something safe and easy to maintain. And if you're looking for something with a little more style, there are plenty of options to choose from. Roman shades and roller shades are perfect for a classic look, while bamboo blinds add a touch of the tropics. And if you want something really unique, try locating a local artist who specializes in creating custom window treatments. No matter your style or budget, there's sure to be a perfect window treatment for your home.
A Revamped Kitchen
When it comes to kitchen renovation, there are really two ways to go about it. You can either do a complete gut job or work with what you have and give it a fresh new look. The latter is probably the way to go if you're working with a limited budget. Even something as simple as painting your cabinets can make a big difference. And if you want to get a little more creative, you can always add some new hardware or change out the light fixtures.
Of course, installing a stone countertop is always a great option if you're looking for a more drastic change. This will allow you to achieve the look of luxury without having to spend a fortune. Stone countertops aren't only luxurious but also highly hygienic and easy to maintain. Any kitchen renovation will be worth the investment if it includes a stone countertop.
Bottom Line
Renovations are exciting and can really transform your home's look and feel. From painting your walls new to adding luxurious touches like stone countertops, there are many ways to update your home. The examples given here are just a few of the must-haves for every renovated home. But no matter your budget or style, there are plenty of ways to give your home a fresh, new look.