Gardening is a fulfilling self-care activity, but maintenance is a seriously complicated task. Plants are sensitive creatures that require regular upkeep, from watering, soil quality, access to sunlight, location of pots, and prevention against pests and weeds. With all care and attention involved, anyone would assume that gardening takes a lot of time.
Garden maintenance is challenging for those who can't carve extra time for their gardens. The challenge is even worse for lawn owners who need to maintain a lush and freshly cut lawn. The Kikuyu lawn is a popular kind of lawn in Australia. Despite being drought tolerant, most busy homeowners turn to professional lawn services to keep their lawns rich and healthy.
We all want a beautiful and healthy garden, but the effort required in maintenance is simply too much. Luckily, there are ways to create a low-maintenance garden perfect for the busy and forgetful people out there.
Focus on low-maintenance plants
The first step in planting a low-maintenance garden is to grow low-maintenance plants. Also, the fewer plants in the garden, the lesser time to maintain it. Although no plant is entirely maintenance-free, certain plant species come close.
Low maintenance means no vegetables, no seed sowing, no bedding plants, and no tender plants or annuals. You may also avoid plants that require staking, such as delphiniums. In addition, stay away from plants that act as rabbit food or slug. Climbers, such as ivy, involve a lot of work since they require endless trying for extra support.
Now you have filtered out your options, what's left are the evergreen shrubs, such as euonymus, holly, lavender, and daphne. To make things interesting, you can try low-maintenance perennials, such as hardy geraniums.
You can also try the Santa Barbara daisy, an edging plant with white and pink flowers. Lavenders are a popular choice for low-maintenance flowers since they only require plenty of sunlight and regular watering. They also have a great smell and a soft purple hue. If you're looking for plants that require less trimming, try penstemon or beardtongue plants since they only need annual trimming but bloom all summer. For perennial lovers, you have bergenia, pinks, New Zealand flax, Mexican feather grass, iris, peony, and daylily.
If you want to take it further, consider laying a gravel garden and avoid plants altogether. Nothing could ever be more low-maintenance than filling your garden with stones and drought-tolerant plants. But if you're looking for something green and colorful, there are still other options.
Apply mulch the right way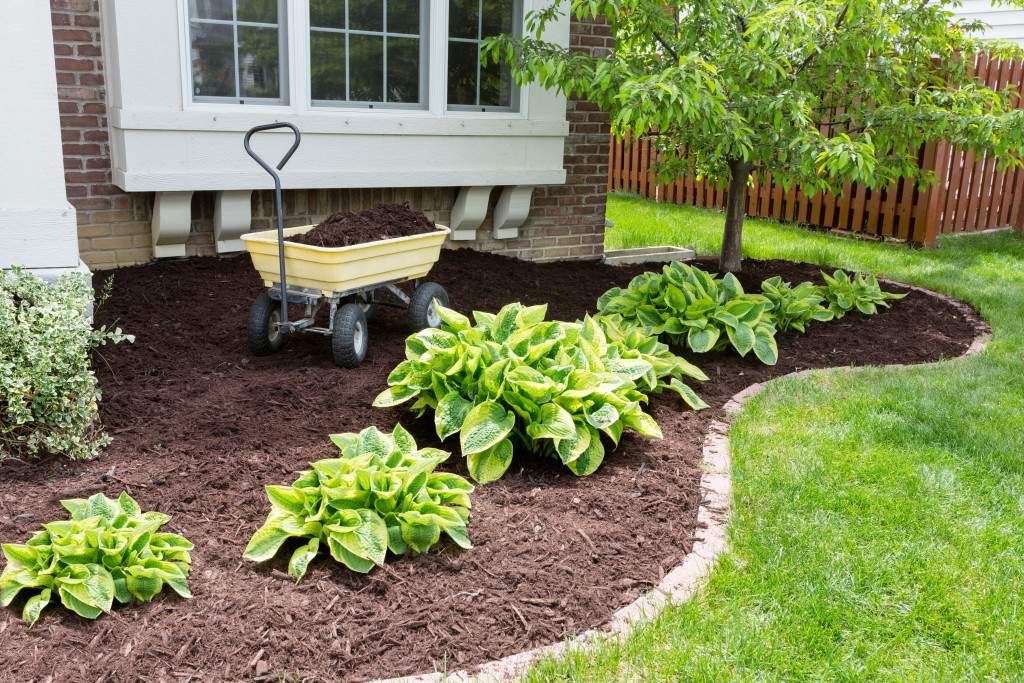 Weeding is one of the most soul-destroying and time-consuming out of all gardening activities, but there are two ways to scratch it off your to-do list. Mulching is a critical step in keeping a low-maintenance garden. It's the best solution when it comes to watering and weeding.
Mulch refers to a thick layer of leaf mold, composted bark, garden compost, and well-rotten manure around the plants. It does a great job of locking moisture and blocking light, preventing weeds from emerging.
A low-maintenance mulch lies in its application. This means covering the plant beds using a mulch blanket at least four to six inches deep. It's a multipurpose method by suppressing the weeds while conserving the soil moisture. For great results, apply well-rotted animal manure on the ground during snowless winters. Another technique is to use a drip irrigation system while on the timer.
To ensure a weed-free garden, consider dense planting. The trick is to pack each border using shallow celled containers. Besides being a great efficiency tool, it's also a useful space saver.
Consider hardscaping
If gardening isn't really your thing, there's always "hardscaping". This applies to homeowners who simply need a relaxing outdoor space instead of a plain jungle. The idea is simple: the more inanimate items in your garden, the less maintenance it requires.
Keep your lawn at a minimum and opt for stone pavings. Reduce the plant bed as possible, and focus on laying slate walkways. Still, not all hardscaping methods are easy to maintain, so make sure to avoid anything labeled as "softscaping". One example is the decking that requires cleaning, while a gravel-laid area needs regular raking. You can also experiment with garden sofas, hanging egg chairs, and day beds for an outdoor living area.
Gardening is supposed to be a rewarding hobby, not become a slave to it. It's something that should add joy to our life instead of stress. Low-maintenance gardening simplifies life, allowing you to do other things you love, such as enjoying and relaxing in your garden. So make sure to follow the steps above to reclaim all your free time.