Have you been dreaming of having a swimming pool in your backyard? A swimming pool is a wonderful addition to every property. Not only will it increase the value of your property, but it also provides a fun activity for you and your family. A swimming pool can also make your property more beautiful and relaxing to look at.
Building your swimming pool is a big investment. That's why you should do proper research before you embark on your new project. From zoning laws to swimming pool water recycling and reverse osmosis systems for swimming pools, here are the things that you should know before you start the construction process:
1. Learn about zoning laws in your area
Make sure that your property is compliant with zoning laws before you start digging your swimming pool. The pool must also follow the rules set in the residential specialty code and the structural code in your state. For example, if you live in Oregon, the front of your property must not be less than twenty feet away from the edge of the water. The main building in your property must also be not less than ten feet away from the edge of the waterline.
There are also corresponding swimming pool building permit fees that you must consider, as well as general requirements in the construction and maintenance of your swimming pool.
2. Know your purpose in building your swimming pool
You must be clear about the reason why you are building a swimming pool. Is it for relaxation and entertainment? Are you a swimmer who needs regular practice? Is it to increase the value of your property? Is it for the kids?
Knowing your purpose can justify the expenses you will make. It can also help you decide on the size and type of pool that you will build.
3. Choose the type of pool you want
There are many types of swimming pools for you to choose from. They come in different styles, sizes, shapes, and designs. Your budget and the purpose why you want to have a pool built can dictate the type of pool that is perfect for you.
If you simply want a pool where you can chill and relax, above-ground pools are perfect for you. It is a cheaper option for most families and best of all, it is portable. You can take it with you should move to a new home. It is also easy to install in all types of lands. You can add a deck for your pool, and you will still have lesser expenses compared to an in-ground swimming pool.
If you want a swimming pool for your fitness regimen, a lap pool should be your choice. It is a long and narrow pool that is usually 50 feet long. They are rectangular in shape and are ideal for narrow lots.
4. Determine how much you are willing to spend
Securing a budget is probably one of the most important steps in your swimming pool project. Deciding on how much you can spend will dictate the type and size of your pool. Aside from the construction costs of your pool, you will also need to consider the heating, landscaping, and maintenance costs.
An above-ground pool can cost you around $800 to $4,000. A lap pool can cost you an average of $44,000 to $100,000.
5. Assess your location
Your location will determine the add-on costs that you also need to consider. Will you need shading or cover from the sun and neighbors? Will you need heating? Do you need to have block screens to protect your pool?
6. Consider the materials that you prefer
You can choose from a fiberglass composite, concrete, or vinyl for your swimming pool. Each material has its own pros and cons. When choosing the type of material of your pool, you should consider its durability and appearance. Your landscape is also a factor that can affect your choice of material. A qualified pool builder can help you choose the right material that will suit your needs and your environment.
7. Consider your pool's maintenance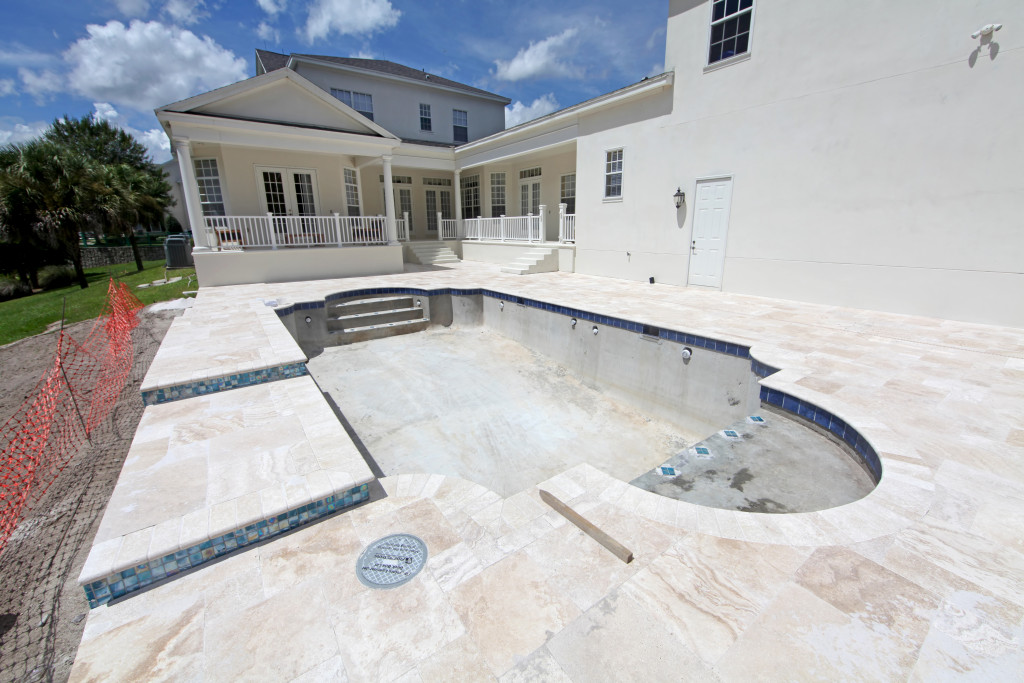 Your pool will need regular maintenance for your safety and enjoyment. You need to ensure that your pool water is safe. At the same time, you must also ensure that you choose energy-efficient methods to keep your pool clean. Swimming pool water recycling, for instance, helps you preserve water while at the same time treating your swimming pool water. The swimming pool water undergoes a filtration process that removes calcium, phosphates, nitrates, and waterborne diseases.
A swimming pool is not an ordinary expense. Conduct your research first so that you end up with a swimming pool that you and your family will enjoy for a long time.