If your home is in need of a little TLC, but you don't have the budget for a full-scale renovation, never fear! You're just one of many people in the same situation. The good news is that there are plenty of small, inexpensive ways to spruce up your space and make it feel fresh and new again.
From freshening up your paint to decluttering your countertops, read on for five easy ways to breathe new life into your home without breaking the bank.
1. Repaint everything!
Paint is one of the easiest and most transformative ways to change the look of a room, and it's not as expensive or time-consuming as you might think. Choose a light, neutral color for walls and trim to brighten things up, or go bold with an accent wall in a vibrant hue.
Not ready to commit to painting an entire room? Paint existing furniture or cabinets for an instant update. And don't forget the power of a fresh coat of paint on doors and hardware — it can make a big difference.
Before starting any painting project, be sure to do your research and buy the best quality paint you can afford. It will go further and look better in the long run. Make sure you also secure any necessary painting supplies like drop cloths, painter's tape, and brushes or rollers. Also, keep valuable things like light fixtures and outlets covered to avoid any accidents.
2. Clean all upholsteries.
A commonly neglected area in terms of cleaning is upholstery, like sofas, chairs, carpets, and other fabric-covered furniture. Over time, these pieces can accumulate dust, dirt, and pet hair — not to mention spills and stains.
Giving your upholstered furniture a good deep clean will make a big difference in your space's overall look and feel. Nowadays, you can hire professional upholstery cleaning services that are relatively affordable. This can do wonders for making your furniture look and smell fresh again. This is especially important in keeping upholstered pieces looking nice if you have kids or pets.
Before going through this, ensure that your furniture's fabrics are colorfast and can be safely cleaned with water-based products. You don't want to end up ruining your furniture in the process!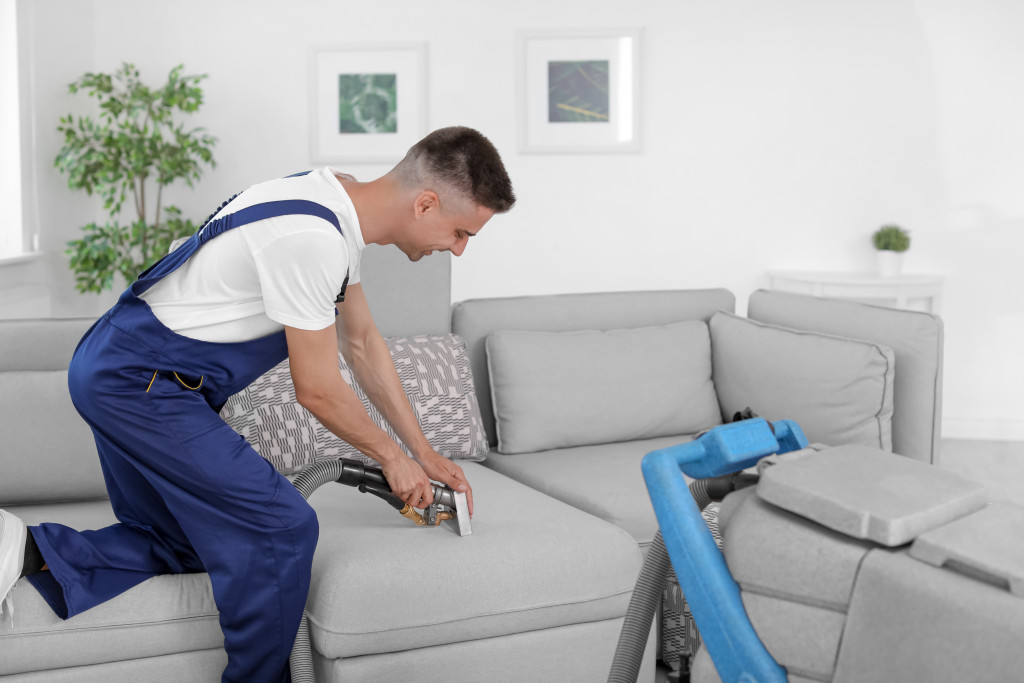 3. Declutter and organize.
One of the quickest and easiest ways to make your home feel bigger and brighter is by decluttering surfaces like countertops, coffee tables, and bookshelves. Get rid of any knick-knacks, magazines, or other items that are taking up space without serving any real purpose. Not only will this make your home look more stylish and inviting, but it will also be easier to keep clean.
After getting rid of the unnecessary stuff, take some time to organize what's left. This will help you make the most of your space and find things more easily when needed. Invest in pretty storage containers or baskets to keep things looking neat and tidy.
You can even DIY some simple storage solutions if you're feeling crafty. For example, you can repurpose an old dresser into a chic entryway table with some paint and new hardware or make your own wall-mounted shelf using reclaimed wood.
4. Re-arrange furniture.
If your home feels stagnant, one of the easiest ways to change things is by simply rearranging your furniture. By rearranging the layout, you'd be surprised how different a room can look — and how much more spacious it can feel.
Start by measuring your furniture and sketching out a few different arrangements on paper. Then, once you've settled on a new layout, take the time to actually move your furniture around. This can be a lot of work, but it's worth it for the fresh new look it will give your home.
If you're stuck on ideas, try looking online for furniture arrangement inspiration. Pinterest is a great resource for this, or you can search for specific room layouts that will work with your furniture.
5. Bring in some plants.
Another easy way to spruce up your space is by adding some greenery. Plants can not only brighten up a room but also purify the air and make your home feel more vibrant.
If you're unsure if you have a green thumb, don't fret — there are many low-maintenance options that are perfect for beginners. Some good choices include succulents, snake plants, and pothos plants. You can also opt for fake plants if you're not ready to commit to taking care of real ones.
When selecting plants, make sure to choose ones that will thrive in the specific conditions of your home. For example, if you don't have a lot of natural light, opt for plants that don't require much sunlight to survive. Or, if you have pets, be sure to avoid poisonous plants that could potentially make them sick.
A few small changes can go a long way when it comes to sprucing up your home on a budget. From painting walls and furniture to decluttering surfaces and bringing in plants, there are plenty of simple and inexpensive ways to give your space a fresh new look. So get started today and enjoy your newly spruced-up home in no time!