Americans are investing more in home renovation projects to improve their home's functionality and increase their value.
Typical renovations include improving the property's exterior, remodeling the kitchen, refitting the bathroom, and landscaping.
Home renovation allows people to personalize their living spaces according to changing needs and reflect their lifestyle choices.
Renovations also promote health and wellness by providing access to natural light and improved air quality.
Investing in energy-efficient upgrades helps reduce energy costs and contributes to preserving the environment.
Home renovation projects have recently increased as people increasingly prioritize their home environments. In 2020, travel restrictions and stay-at-home orders have made people realize how essential their homes are, resulting in more people investing in home renovations. Today, homes are not just a place of shelter, but they are an extension of an individual's lifestyle and a reflection of who they are. Here's what you need to know about renovations, why more people are investing in them, and renovation options to increase the value of your home.
Home Renovations in The U.S.
It's estimated that Americans spent about $400 billion in renovations in 2021, and the numbers continue to grow. Homeowners are investing in renovating their homes to improve their functionality, increase home value, and make it a more comfortable space for their family.
Why People Renovate
There are many reasons why people choose to invest in renovating their homes. Some of the most common reasons include:
Increase in Property Value
An important reason people are investing in home renovations is to increase their home's resale value. Renovations can range from a minor bathroom renovation to something significant like a full kitchen overhaul. As homeowners renovate their homes, the property's value increases, making it easier to sell and for a higher price. First, evaluate the parts of your home that need renovation, and identify which ones have the best returns on investment to help boost the property's value.
Personalization
A home renovation allows homeowners to personalize their living spaces to match their lifestyle. Over time, tastes, preferences, and lifestyle change, and a home renovation helps people update their living spaces to reflect their new tastes and needs. For instance, a homeowner may renovate their kitchen to create an open kitchen with modern appliances to enhance convenience. Personalizing a home also adds a sentimental value that creates a positive emotional connection to the living space.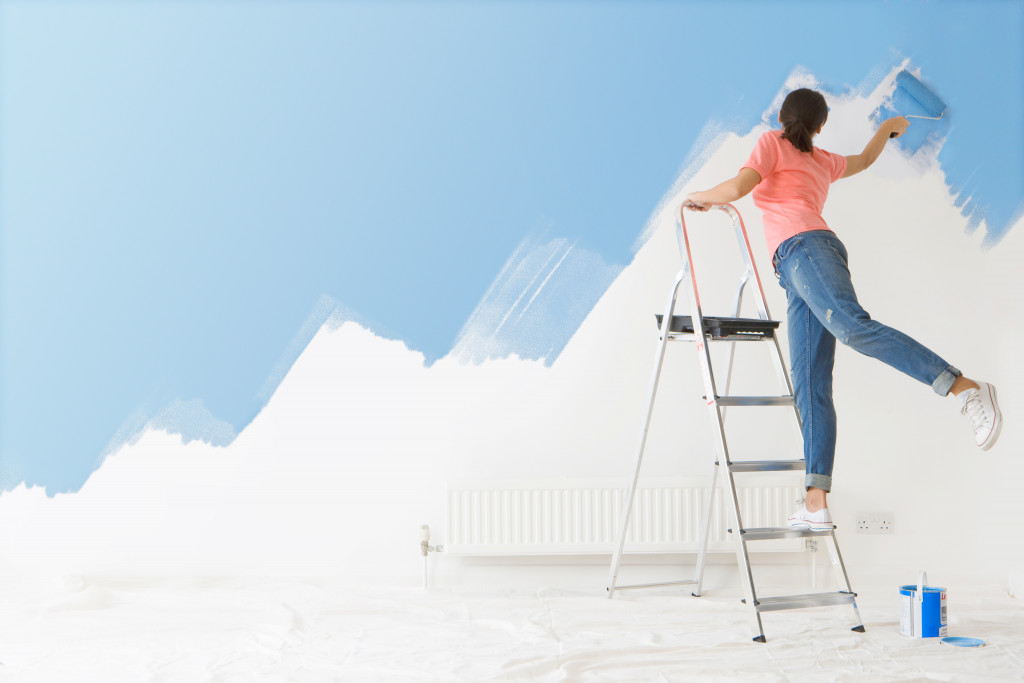 Health and Wellness
Recent research has shown that the home environment significantly impacts an individual's health and well-being. For instance, researchers have noted that exposure to natural light improves mental and physical health and productivity. Homeowners are investing in renovations that promote health and wellness, such as creating a garden or installing ventilation systems to improve the home's air quality. Such renovations provide an opportunity for a healthier space to live in, thus boosting overall mental and physical well-being.
Energy Efficiency
By making home renovations that are energy efficient, homeowners can reduce energy costs and help sustain the environment. Home upgrades like solar panels, energy-efficient windows and doors, and lighting systems significantly reduce energy bills. Energy-efficient renovations are a win-win situation, where homeowners save money and contribute to preserving the environment for future generations.
Addressing Repairs
Addressing repairs is another reason why homeowners are investing in home renovations. Over time, parts of a home can wear out, and addressing such damages only helps improve the home's safety and comfort. Water damage or leaks, for instance, can cause mold, which is a severe health hazard and requires professional renovation. Addressing these issues adds value and longevity to the home.
Best Renovation Options For Your Home
Increasing property value should be the main focus for home renovations. Here are four of the best renovation options to increase your property's value:
Porch
Your home's face value is everything—the first thing people notice at your property is the front porch. Investing in renovating your porch not only improves its curb appeal but also adds significant value to your home. Consider purchasing a durable oak porch kit if you want to do it yourself. The kit can be easily installed, providing a strong, stylish, and durable porch.
Kitchen
The kitchen is the most essential room in the house, and upgrading it to a couple of notches can add significant value to your home. If you're looking for an economical option, consider updating existing cabinets by giving them a new coat of paint or installing modern lighting systems. You can also invest in purchasing energy-efficient appliances that will help reduce energy costs while increasing property value. It's estimated that the average ROI for kitchen renovations is around 81%.
Bathroom
Similar to the kitchen, the bathroom should reflect comfort and luxury. Investing in refitting the bathroom with modern fixtures like walk-in showers, dual vanities, heated floors, or intelligent toilets adds significantly to property value.
Landscaping
Landscaping adds a touch of beauty to any home and increases the property's value. If you're looking for low-cost landscaping options, consider planting some shrubs and trees or adding colorful flowers to your garden. You can also purchase decking material for outdoor living spaces such as patios or balconies.
Renovations are an excellent way to increase the value of your home while simultaneously personalizing it to reflect your lifestyle. With the right renovations, homeowners can achieve their desired outcomes of increasing property values while creating an inviting environment where they can relax and enjoy themselves with family and friends. In addition, selecting energy-efficient upgrades help reduce energy costs and contribute to preserving the environment for future generations.