People increasingly seek ways to make their home celebrations stand out and go viral with unique experiences. 
Creativity and innovation should be central to event planning, incorporating exciting elements like technology, entertainment, and interactive features.
Push the boundaries of what is possible at home by transforming living rooms into nightclubs or backyards into tropical paradises.
Set the stage for an unforgettable experience utilizing unique spaces, extravagant decor, and captivating food, drinks, and entertainment. 
Find a reputable event center builder to help create custom spaces that fit within budget and safety regulations.
Home celebrations have come a long way from the traditional dinner parties and backyard barbecues. In recent years, there has been a growing trend toward creating unforgettable experiences that push the boundaries of what is possible at home.
People are no longer content with the same old parties and are increasingly looking for ways to make their celebrations stand out.
The value of creating unforgettable experiences cannot be underestimated. Memories are formed through experiences; the more unique and memorable the experience, the more it will stand out in minds.
In the age of social media, creating lasting memories has become even more critical. People want to share their experiences with friends and followers and have their celebrations go viral.
Redefining Home Celebrations
To create unforgettable experiences, home celebrations need to be redefined. Festivities should be immersive and engaging instead of just providing food and drinks.
Embracing Creativity and Innovation in Event Planning
Creativity and innovation should be at the heart of event planning. Traditional party settings and themes are no longer enough to impress guests.
People want to be surprised and delighted by new and exciting ideas by incorporating technology, entertainment, and interactive elements into parties to create an immersive experience.
Going Beyond Traditional Party Settings and Themes
To create memorable experiences, parties must go beyond traditional settings and themes. Consider transforming your backyard into a tropical paradise or converting the living room into a nightclub.
The key is to create an environment that transports guests to another world and provides a unique experience.
Challenging Conventional Notions of What's Possible at Home
The most unforgettable experiences push the boundaries of what is possible at home. Challenging conventional notions of what can be done in a residential setting is possible.
With the proper planning, almost anything is possible. The options are endless, from a full-size roller coaster to a live band.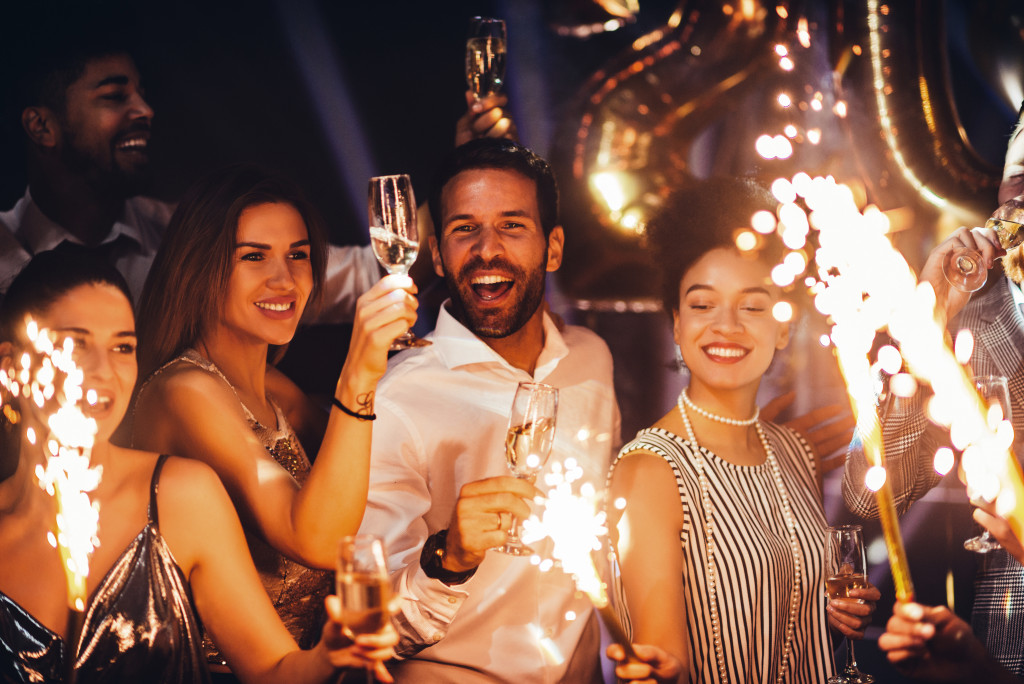 Setting the Stage: Transforming Your Home
Transforming your home into an unforgettable celebration space takes careful planning and preparation. Here are some ideas you could do to set the stage for your celebration:
Utilizing Unique Spaces and Architectural Features
Every home has unique spaces and architectural features that can create an unforgettable experience—meaning turning a staircase into a waterfall or using a fire pit as a centerpiece for a backyard celebration. The key is to identify these spaces and features and use them creatively.
Incorporating Extravagant Decor and Lighting Elements
Decor and lighting are essential components of any celebration. For an unforgettable experience, these elements need to be taken to the next level.
You could incorporate elaborate floral arrangements, elegant lighting, and themed decor that transports guests to another world.
Creating Immersive Environments and Themed Areas
To create an unforgettable experience, celebrations need to be immersive and engaging, like themed areas that transport guests to another world.
It could be a pirate ship for a backyard party or a winter wonderland for a holiday gathering. The idea is to create an environment that encourages guests to explore and engage with their surroundings.
Captivating the Senses: Food, Drinks, and Entertainment
Grand celebrations are all about sensory experiences, and that's what makes them unforgettable. The food, drinks, and entertainment you choose must be top-notch.
A well-curated menu, signature cocktails, and immersive entertainment can turn a regular party into a memorable one.
Elevating Culinary Experiences
How you present your food matters just as much as its taste. Serve food in creative ways that impress your guests.
For example, you can create interactive grazing stations where guests can serve themselves or arrange different types of food for an impressive display. Contemplate using designer tableware, platters, and floral arrangements to enhance the aesthetic appeal of your dishes.
Crafted Cocktails
Innovative drink presentations at a celebration are almost as important as the food. You can create a customized bar experience by showcasing different cocktail creations through interactive drink stations.
This will encourage guests to be creative and make their drinks. You could also hire professional mixologists to create signature cocktails that match the celebration's theme and vibe.
Curating Exceptional Entertainment
Entertainment is a vital part of any successful celebration. You'll want to create an immersive experience with different activities like art installations, photo booths, and interactive games.
It could be in the form of other stations for guests or hiring performers like dancers, acrobats, and musicians. Collaborating with professional entertainers to add a unique flavor to your party can help set it apart.
Utilizing Trusted Event Center Builders
If you have the space, consider transforming your backyard or living room to create another level of experience for your guests by utilizing the help of trusted event center builders. Making a custom space will ensure that the energy and feel of any celebration will be elevated.
Hiring a trusted event center builder will take the hassle out of the entire process and ensure your new event space is beautiful and functional. Moreover, the builder will handle safety requirements and regulations, ensuring you don't unknowingly run into liability issues.
Finding Reputable Event Center Builders in Your Area
Finding a reputable event center builder doesn't have to be challenging. Consider asking friends and family members for recommendations or doing a simple Google search.
Reviewing builder portfolios, testimonials, and ratings on their professional website should give you a good idea of the quality of their work.
Collaborating With Professionals in Creating Custom Spaces
Collaboration with event center builders is crucial! They will help ensure you get a unique space that is both functional and unique to your vision. Working closely with the builder will give you an idea of what's functionally possible and design-wise doable and help you stay within your budget.
Creating unforgettable experiences has become a priority for many people. By redefining home celebrations, embracing creativity and innovation, and challenging conventional notions of what's possible at home, unforgettable experiences can be achieved.
With careful planning and preparation, any home can be transformed into a unique celebration space that provides guests an unforgettable experience.