Upgrade landscaping by replacing old plants, adding outdoor lighting, improving fencing, and adding path stones.
Refresh the exterior with a fresh coat of paint and update your front door.
Install outdoor features like a deck, pergola, or patio to improve your home's curb appeal.
Clean the exterior regularly to keep it neat and ensure all external elements are in good condition.
Invest in small improvements over time to increase your home's value and improve its curb appeal.
The external appearance of your home is the first thing people notice about your property. So, if you're looking to improve your home's value, starting with the exterior is a great way to do so. There are several ways to increase your home's curb appeal and boost its property value, whether you're planning to sell or just want to enjoy a fresh look. Here are some tips and tricks to improve the home exterior and increase property value.
1. Upgrade Your Landscaping
One of the most effective ways to improve your home exterior is by upgrading your landscaping. Landscaping also adds an element of warmth and personality to your property. Here are some landscaping tips to help you get started:
a. Replace old plants with new ones
Planting colorful flowers or shrubs can add visual interest to your yard. Plant evergreens to add a natural border or privacy barrier around your property. If you want to save money, you can choose native plants that are low maintenance and easy to care for. This will help you save time and money in the long run.
b. Add outdoor lighting
Adding lights and lanterns along your pathways or around your garden can help create a cozy, inviting atmosphere. Outdoor lighting also adds to the overall security of your home. Make sure you use the correct type of lighting fixtures and bulbs to help enhance your home's exterior. Some examples of outdoor lighting fixtures you can use include string lights, solar-powered lights, lanterns, and more.
c. Upgrade your fencing
Fences are a great way to add privacy and security to your property. They also enhance the overall appearance of your home exterior. Consider replacing old, worn fences with new ones to improve your home's look and value. Wooden fences are common, but there are newer styles available. For one, you can use a durable seclusion composite fence that adds the same rustic charm as wood fences but with a more modern look.
d. Add path stones
Path stones are a great way to add interest and definition to your garden or walkways. They also amplify the beauty of your home's exterior. Consider adding path stones to your outdoor area for an elegant touch. You can use natural stones, bricks, and even concrete pavers.
2. A Fresh Coat of Paint
A fresh coat of paint is another effective way to improve your home's curb appeal and increase its value. Choose a color that complements your home style and creates a cohesive look with your landscaping. A neutral color is always a safe bet, as it appeals to a broader audience. Painting your front door or shutters in an accent color is another way to add interest to your property's exterior. Regular upkeep of the paint prevents the exterior of your home from looking faded and worn out.
3. Update Your Front Door
The front entrance is one of the first things people notice when approaching your home. Updating your front door can significantly affect your property's curb appeal. Consider replacing your door with a new one that matches the style of your home, or simply paint it. You can also add geometric-shaped doormats, new house numbers, and decorative hardware to make it look more attractive.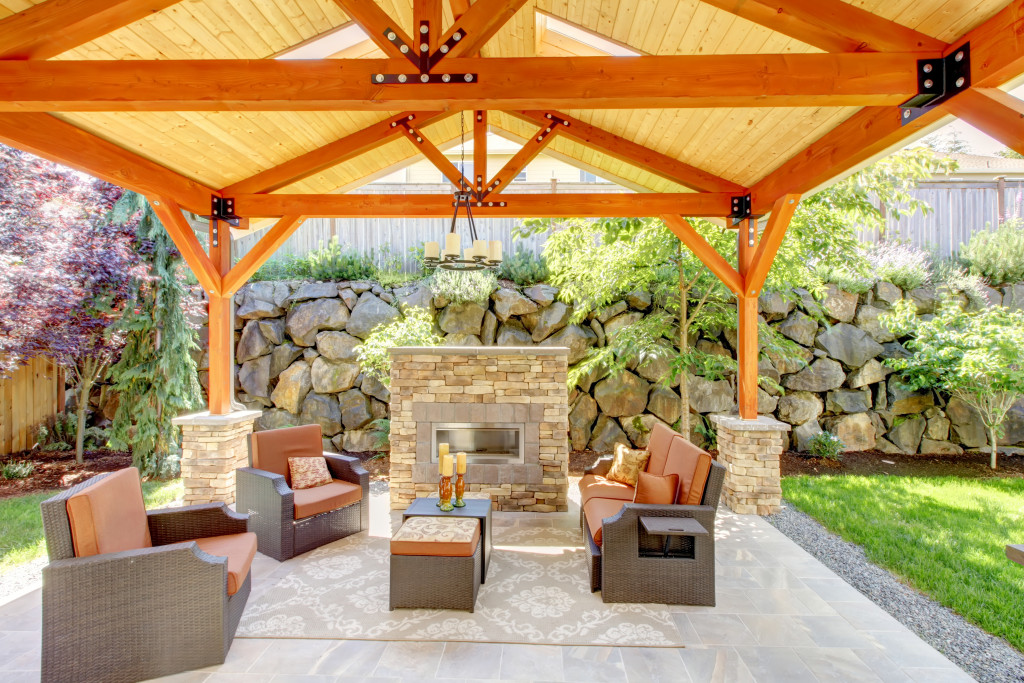 4. Install Outdoor Features
Installing outdoor features like a deck, pergola, or patio can also improve your home's value. Outdoor living spaces are highly desirable among homebuyers, providing a space to entertain and enjoy the outdoors. These features can also be added gradually over time and don't have to be overly expensive. Investing in outdoor elements and creating visually pleasing outdoor spaces will make your home more attractive to potential buyers.
5. Clean Your Exterior Regularly
Regular cleaning of your home's exterior can make a big difference in curb appeal. Dirt, grime, and moss buildup can make your home look unkempt and old. Give your home exterior a thorough cleaning with a power washer, or hire a professional cleaning service. After the cleaning, tackle the upkeep by adding regular small tasks, such as sweeping, wiping down outdoor furniture, and trimming unruly bushes.
Improving your home's exterior and boosting its property value doesn't have to be a daunting task. These tips and tricks are manageable, and many of them aren't overly expensive. Regularly maintaining your home's exterior and investing in its curb appeal will go a long way in increasing the value of your property. With some time, effort, and elbow grease, you can make your home the envy of the neighborhood.