Homes hold so much value for people that investments in improving the property are almost always suitable. Aside from costly renovation mistakes or issues, you will find that your efforts to enhance or upgrade your home will aim to make your life feel more comfortable, convenient, relaxing, intimate, and entertaining. Every individual homeowner has their ideas for what they want to improve for their homes, but there are plenty of guides and suggestions you can find on the internet. You will come across many trendy ideas, but you might be looking for something that adds functionality and aesthetics. Renovating your home can be costly, especially when your plans involve structural change.   The outdoor space will be an excellent place to start if you want to save up on renovation costs. The combination of financial flexibility, aesthetic promise, and valuable features will ensure you are threading in the right direction for home improvement.
Shade for the Outdoor Living Space
The primary purpose of an outdoor space inside a residential property is to allow homeowners to get a whiff of fresh air from time to time. It will not be pleasant to face the same four walls every day, especially since the pandemic forces people to stay in their properties for health and safety purposes. The outdoor area will be an extra living space offering a change in scenery. Adding a few chairs, tables, and furniture can do the trick. If you have enough budget, you can install a wooden deck to make the flooring more friendly.
While it paints an aesthetically pleasing picture to create an outdoor living area, you might not be able to escape the sun's heat or the rain's heavy downpour. Fortunately, you can hire companies that provide high-quality residential awnings. The extended roof will make your outdoor space more habitable, preventing the weather from becoming a problem should you feel the need to relax outside.
Infusion of Natural and Modern Designs
Most homeowners want to retain the natural elements of their outdoor area. Since they will be looking for a change of scenery, they will limit amenities and structure as much as possible. Some people already feel satisfied with a garden. However, they might be missing out on the benefits of modern amenities and designs. Fortunately, you can still retain the natural elements you want. You can hire designers who specialize in blending raw materials like wood, timber, and gravel to outer decks, patios, and pathways.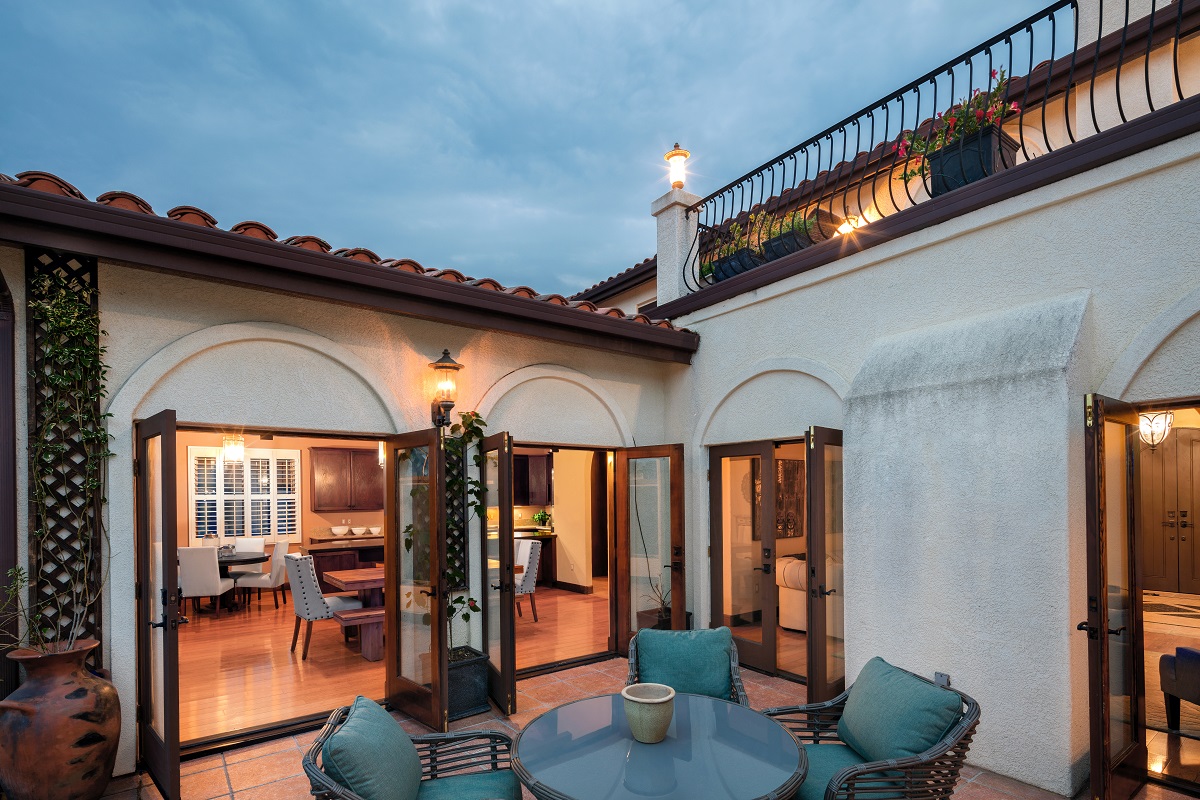 You do not even have to renovate to combine both elements in your outdoor property. The infusion can happen when you have concrete paths and arrange potted plants around them. Your patio can also benefit from the addition of flowers. Instead of using tiles for your swimming pool, you can use marble or granite. The eco-friendly and lively features of natural elements are timeless, capable of adapting to modernization and trends that will make your outdoors an aesthetically pleasing space.
Parking Space Turned to a Hub
Your renovation projects might be focused on visible areas of your outdoor property. Front lawns, backyards, terraces, and canopies will be top priorities. However, you will find that your garage is also part of the category. Unfortunately, most homeowners only see it as a driveway and garage door, focusing on upgrading the latter as the only task necessary for the area.
Most homeowners will be parking their cars inside it, but you might be wasting extra space. Some people use it as a storage solution, a laundry area, and even a home office, making it the ultimate multi-purpose room. If you live in a relatively safe community, you can park your car on the driveway to help you turn your garage into a hub. You will still be closing the garage door at night, but you can get creative with the design to make it an extension of your outdoors.
Eating Out in Your Property
Homeowners have to cook a few meals outdoors. Grilling and smoking food is not suitable indoors, especially when you have a small kitchen. Fortunately, it will be easy to purchase the necessary equipment to help you cook, but it might be challenging to tuck them away once you finish using them.
Fortunately, you can provide a long-term solution by installing an outdoor kitchen. If you like hosting events, you can also add a dining area on the shaded parts of your backyard. Outdoor kitchens remain an attractive amenity, but trends will constantly arise. Figure out which one is suitable for you before you start your renovation project.
Trends will always change, but your preference will be the one that dictates your outdoor renovations. If you can find those that combine functionality, aesthetics, and timeliness that piques your interest, you should consider trying it out for your property.