Confused about what to do with your backyard? Have some ideas but wondering what would be good or what would be bad? Do you want to redo your backyard the way you have always wanted? So here are some ideas that can help you get there out in all the seasons by utilizing most of your outdoor living space!
From constructing outdoor fire pits to installing electronic entertainment systems to improving your lawn, outdoor seating that is socially distant, or creating an outdoor cooking area. Here are all the things you can do with your outdoor living space.
1. Set Up a Nice Hanging Spot in Your Backyard
Outdoor spaces can be a great place to hang out with friends and family. They are also the perfect place to relax and wind down after a long day of work. A great way to enhance your outdoor space is to install a seating place like chairs, benches, or patios in your backyard.
Benches can be utilized to define and separate the seating area from the rest of the yard. Just make sure to leave enough room for pathways. Arrange the chairs and other amenities around the specified walkways. A nice backyard can be a great place to host your guests.
2. Build an Outdoor Cooking/BBQ Space
A BBQ night with a BBQ grill counter in one corner, a large center table, several chairs, outdoor big bulb string lights, and, of course, some background music is ideal for a sunny summer afternoon or a breezy winter night seeking a house party with some close friends.
This is a fantastic concept for a cozy gathering, and you should try it out. Your outdoor cooking space can also be in the form of a fireplace where you can warm yourself and gaze at the night sky during the winters.
3. Make the Most Out of Your Backyard Garden
You can build your own mini-garden in your own backyard. Backyard gardens are great for growing veggies and fruits like carrots, spinach, kale, and tomatoes. You can also grow floral plants and give your backyard a completely new look.
If your kitchen is facing your backyard, you can plan your garden in such a way that you can easily access your fruits and veggies from your kitchen. Freshly grown vegetables from your backyard can be a great conversation starter the next time your friends come over to visit you.
4. Build an Outdoor Playground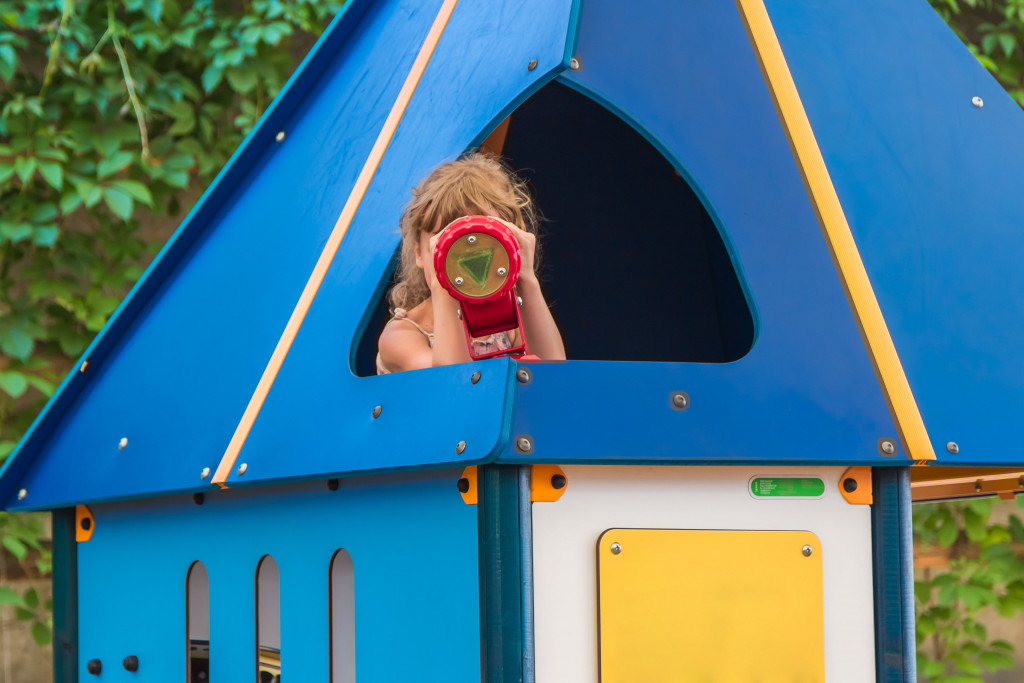 Outdoor playgrounds are a great way to make use of your outdoor space. Trampolines, slides, and swings are ideal for your outdoor playground. They are liked by both kids and adults. Kids especially love to have a place to hang out and play after school.
Backyard playgrounds are an awesome way, even for adults, to get some workouts for the day. You can also build an outdoor gym for yourself where you can train during the morning or the evenings. The view might be a great motivator for finally completing your new year resolution.
5. Build an Outdoor Shelter for Your Pets
A small house for your pet might be the thing missing from your outdoor living space. You can also put up small shelters for birds to make their nest.
Birdhouses can add a unique flair to the look of your house. While adding to the unique look, they serve by helping birdies in need. Birdhouses were quite popular in ancient Turkey. In fact, ancient mosques and buildings still feature birdhouses.
6. Garden Tent Not Only for Commitments
Avoid committing to a long-term relationship by renting a luxurious garden tent that is simple to set up. A garden tent is a terrific alternative if you want some shade in the summer and the ability to take it down when the weather changes.
It's not just for weddings and garden parties. They provide shade from the heat, shelter from a rainstorm, and can even be used as a guest bedroom in the summer.
7. Office in a Green Area
In the era of work from home, ideas for a garden room have gained a lot of popularity. We, as homeowners, aspire for the most cost-effective way to expand our homes to gain more space without going overboard.
Greenhouse designs provide more space, but the most popular trend in recent years has been to give up a piece of the courtyard to accommodate a home office.
The most important thing to remember when designing outdoor living areas is to have fun. You should be the only one who enjoys your outdoor space. Whether it goes with the trend or not, enjoy what you have.