As anyone who has ever had to deal with a cluttered home knows, storage is essential. Not only does it help to keep your living space tidy, but it can also save you time and money in the long run. When everything has a place and is neatly stored away, you can easily find what you need when you need it. This can save you valuable time that would otherwise be spent rummaging through piles of stuff. In addition, storage can help to protect your belongings from damage. By keeping them organized and out of the way, you can avoid the risk of them being crushed or otherwise damaged. And finally, storage can help to prevent waste. When everything has a place, it is less likely that things will be forgotten or lost and less likely that they will go to waste. In short, storage is an essential part of any well-organized home.
But what if you're out of space in the house or you simply don't know where you can place your belongings? Here are a few ideas that can help you out:
Convert a spare room into a storage room
Most houses have at least one room that goes unused for most of the year. If you can't seem to find a use for that spare room, consider turning it into a storage room. It may not be the most glamorous use for the space, but it can be efficient.
Start by clearing out any clutter that has accumulated in the room. Then, add some shelves or storage bins to help organize your belongings. Be sure to label everything so you can easily find what you're looking for. And don't forget to leave some space for seasonal items.
By taking the time to convert your spare room into a storage room, you'll be able to keep your house more organized and tidy.
Use your attic as a storage room
Attics are often neglected spaces in the home, but they can be put to good use as storage rooms. Since attics are typically located above the garage or another storage area, they are ideal for storing seasonal items, holiday decorations, and other items you don't need regularly.
The key to using your attic as a storage room is to take advantage of the vertical space. Install shelves along the walls, and use them to store boxes and other small items. If you have a large attic, you may also want to consider installing a loft or mezzanine level to create even more storage space.
By making better use of your attic, you can free up valuable storage space elsewhere in your home.
Create a storage room in your basement
You can easily transform your basement into a storage room by following a few simple steps.
First, clear out any clutter and sweep the floor to remove any dirt or dust. Next, measure the dimensions of the room and determine what type of storage shelves or racks you will need. You can purchase these items at your local hardware store. Once you have the shelves or racks in place, label each one with a description of the items that should be stored there. For example, one shelf could be labeled "holiday decorations" and another could be "winter clothes." Finally, use bins or boxes to organize smaller items and label them accordingly.
By taking these steps, you can turn your basement into a functional storage room that will help keep your home clean and organized.
Use your garage for storage
Most people use their garage as a dumping ground for everything they don't want in their house. As a result, the space quickly becomes cluttered and unusable. However, your garage can be a great storage space if you use it wisely.
Start by removing any items you don't need or use regularly. If you're unsure what to keep and what to get rid of, consider renting a storage unit for seasonal items or things you only need once in a while. Once you've decluttered your garage, take some time to organize the remaining items. Create clearly defined spaces for different types of things, and invest in some heavy-duty shelves or cabinets to maximize storage.
By following these steps, you can transform your garage from a cluttered mess into a neat and orderly space.
Build a shed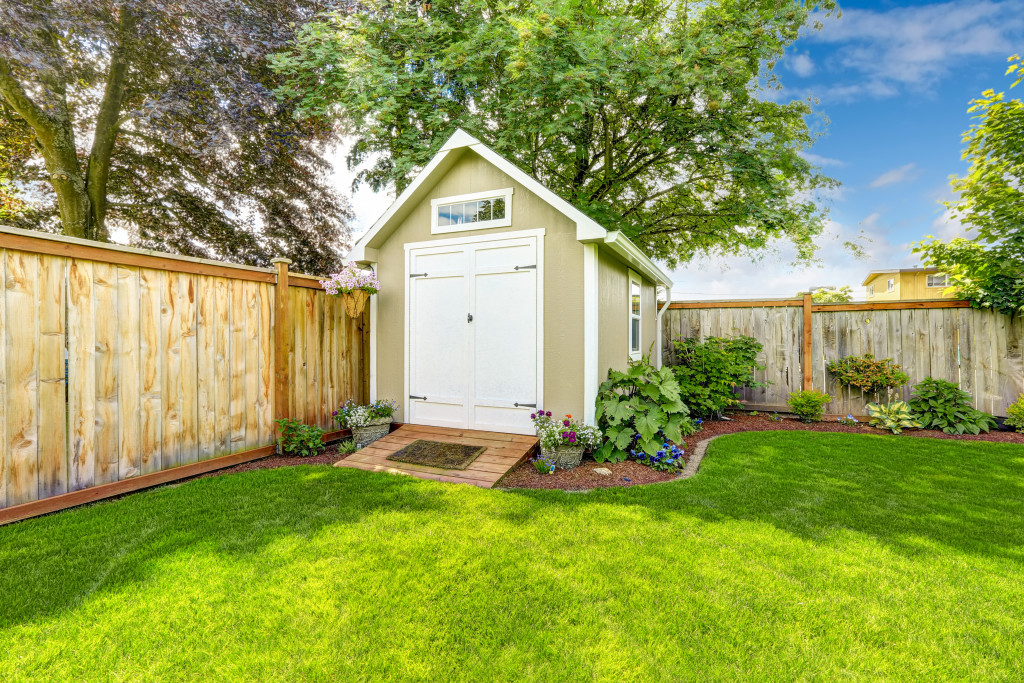 You may be thinking, "Do I really need a shed?" The answer is most likely yes! A shed can serve many purposes, such as providing extra storage for lawn equipment, being a garden tool shed, storing bikes, or housing your paint supplies. No matter what you plan to use it for, building a shed is a fun and practical project that anyone can do with a bit of help. Plus, it's a great way to add value to your property.
So, where do you start? The first step is to determine the size of the shed you need. Then, you'll want to choose a level spot in your yard for the shed and mark the corners with stakes. Once you've done that, you'll want to ensure you have the correct plans to guide you on the project.
Suppose the size you want for the shed is 8×12. In that case, you'll need an 8×12 backyard shed plan. An 8×12 shed plan will help you know how much lumber and other materials you'll need, as well as the tools. It will also give you step-by-step instructions for building the shed. Once you have your plans, the next step is to gather the necessary supplies. This includes lumber, nails, screws, and any other materials that are called for in the plans. This plan is important because it will help make sure you have everything you need before you start building.
Once you've done that, you're ready to start digging. After the hole for your foundation is dug, you can begin assembling the walls of your shed. When the walls are up, it's time to add the roof. And finally, don't forget to add finishing touches like trim and shelving. With a little effort, you'll have a beautiful and functional new shed.
It can be tough to find storage space in your home. If you're running out of options, don't worry—there are plenty of ways to create extra storage room without taking up too much space. You could convert a spare room into a storage room, use your attic as a storage room, create a storage room in your basement, or use your garage for storage. If none of those ideas work for you, you could always build a shed. With these ideas, you won't run out of places to store your belongings.