Many people want to add luxurious features to their homes but don't know where to start. While most luxury renovations come with a hefty price tag, there are some more affordable ways to add a touch of luxury to your home. Here are some standard luxury home features to consider adding to your house.
1. A gourmet kitchen
If you love to cook, then a gourmet kitchen is a must-have. This type of kitchen usually has high-end appliances, plenty of counter space, and a large island. It's the perfect place to entertain guests or cook a family meal. Some people even add a second kitchen if they have the space.
You can still build a gourmet kitchen without spending too much. For example, installing granite countertops instead of marble or getting energy-efficient appliances. Many home builders are now offering gourmet kitchens as an upgrade, so be sure to ask about it when looking at new homes.
You can add a wine fridge, a pot filler, or a second sink to make your kitchen more luxurious. This is a great way to add value to your home and make it more enjoyable to live in. Find a kitchen remodeler that can help you create the perfect gourmet kitchen for your needs.
2. A swimming pool
Nothing says luxury, quite like a swimming pool. Adding a pool is a great way to make your home more enjoyable if you have the space and the budget. It's also a great way to increase the value of your property. Some people even install pool houses or cabanas to create a true oasis.
If you're not ready to commit to a full-fledged pool, you can always start with a smaller version, such as a hot tub or spa. You can also choose from various classic pool designs or get creative and add custom features like waterfalls or a swim-up bar. This will help you create the perfect pool for your home and lifestyle.
Some people worry about the maintenance of a pool, but there are many ways to make it low-maintenance. For example, you can install an automatic pool cover to reduce evaporation and keep the water clean. You can also invest in a robotic pool cleaner to take care of the cleaning. Even if you have to do some maintenance, it's worth the luxury of having a pool.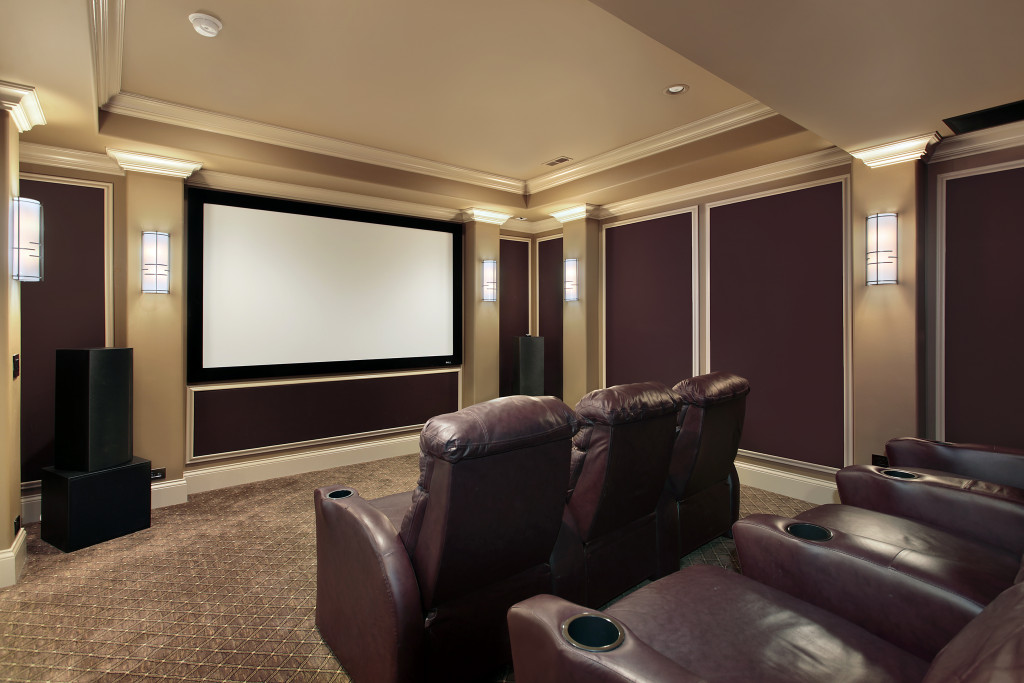 3. A home theater
Many luxury homes have a home theater. Compared to going to a movie theater, it's more convenient, and you can control the environment. You can also invite friends over to watch movies or sports games. If you have young children, then a home theater can be a great way to keep them entertained.
You don't need a huge budget to create a home theater. You can start by adding a high-resolution TV and sound system. This will significantly improve the watching experience. Then, you can add comfortable seating and decor to make it feel like a real theater. You can even build a dedicated home theater room if you have the space.
Of course, popcorn is a must-have for any home theater. Adding a popcorn machine or an air popper can make it even better. This will make your home theater feel like a real movie theater. Pay attention to the small details, and your home theater will be a hit with everyone.
4. A home office
Although it's not technically a luxury, having a home office is a must for many people. A home office is an excellent addition to your home if you work from home or need a quiet place to get things done. You can design it however you want and make it as comfortable as possible.
When setting up your home office, get a comfortable chair and desk. This is what will make the room feel luxurious. You can add a couch or loveseat to take things up a notch. Then, add plenty of storage for your files and office supplies. This will help you keep the room organized and clutter-free.
You also need the latest technology for your work. This includes a good computer, printer, and fast internet connection. Technology is constantly changing, so make sure you stay up-to-date. This will help you be more productive and efficient in your work.
There are many luxury features you can add to your home. These are just a few of the most popular ones. Be sure to talk to a contractor or designer to find out what's possible. With the right additions, you can make your home more luxurious and enjoyable.