Do-it-yourself projects have usually been related to interior renovations and designs of a home. But there are actually a couple of exterior projects you can do by yourself. House sidings, patios, and greenhouses can be built by you, given enough time and money. These outer attachments to your home should also increase your property's value once you've finished them. Here are some ways you can do this.
House Sidings
House sidings are known to protect its inhabitants from the dangers of the outside world. This includes storms, snow, and strong winds. They are also known to stop pests from entering your home. In addition to this, they are also essential in beautifying your home. Choosing the right siding for your home is vital for your DIY project. If you're not very experienced in replacing your home's sidings, you can always start with wooden sidings.
Wooden sidings usually follow a paneled design. This means that you install these kinds of sidings by the panel. These kinds of sidings are made from materials like plywood. You wouldn't need to do anything fancy to install these, just remove the previous siding from your home alongside some extra cladding, and you're set to install your wooden sidings. However, make sure to measure them first so that they can be appropriately layered on the sides of your home. Once they are measured, you can either nail or drill them in. It depends on what kind of look you want for your home. If you're experienced with installing sidings for your home, consider using fiber cement as a siding. Fiber cement is excellent for increasing your home's value, and it's also known to last a lifetime.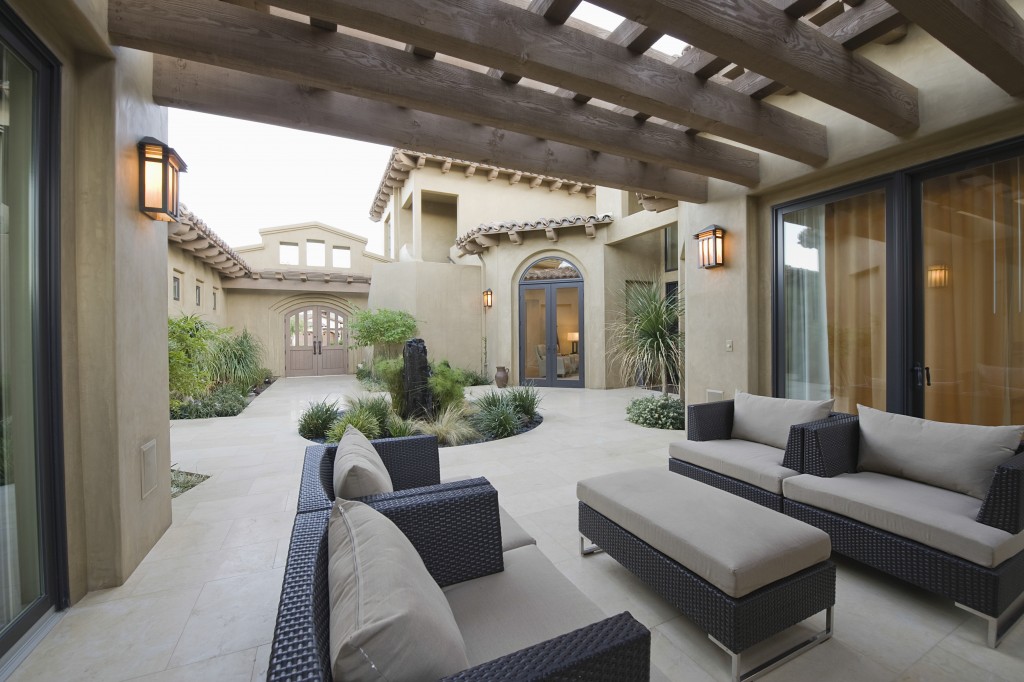 Patio
Installing a patio outside your home is a sure way to get some compliments from your neighbors. Many Americans love their patios as it was their way to show prosperity among their neighbors in the community. Additionally, many Americans look for patios when buying a home. By installing one, you can drastically increase your home's property value.
Many homeowners think that you need a contractor to build a patio in their homes. However, if you have the time for it, you can make your own patio right in your backyard. The most effortless patio to build is a stone patio. You're only going to need a couple of things to build your stone patio: a shovel, gravel, and some flagstones.
To start, outline the area you want to build your patio. Ensure you have enough space for it and that you wouldn't need to convert the place entirely for your patio. To avoid extra work, don't replace other installations in your home. After outlining, use your shovel to remove the soil within the area. Then it's just a matter of laying gravel and placing the flagstones. You can top the patio with some sand or plants to make it look even better.
Swimming Pool
Swimming pools are a great addition to any summer home. They can increase your property value while also boosting the way it looks as well. However, installing swimming pools can cost you a lot of money. Moreover, it's almost essential for you to hire a contractor for it, depending on your state's laws. But these are all problems of an in-ground pool. An above-ground pool costs less, looks more modernized, and can easily be installed by anyone.
Above-ground pools can be made of resin, rigid wall, or metal. There are also inflatable types of above-ground pools, which are considered cheaper and very easy to install. If you're looking to have a swimming pool done in just one weekend, choose the inflatable type.
The first step to build your own above-ground swimming pool is to get a permit. Depending on where you live, having a permit is essential to have a pool in your home. The next step is to buy the materials for your pool. You can find inflatable types in almost any hardware store in your city. Then, it's all about inflating the sides of the pool and adding some water to it. They tend to look quite simplistic in design, so the extra step adds a new layer to your inflatable above-ground pool. There are many materials for this, such as wood, resin, or even pallets. All of them can add a rustic look to your pool.
Many homeowners believe that extensions from this list require someone else to do it for them. However, they are quite easy to do if you have the time for them. The best part of it all is that you can easily beautify your home without asking others for help.