For many people, their backyard is a stress-free oasis away from the hustle and bustle of everyday life. They often use it as an escape to relax and forget about their responsibilities. Many people consider their backyard to be their paradise. If built correctly, the backyard can even be used as an extension of the home and for entertaining guests or hosting parties. A backyard should be a reflection of the homeowner's personality and style. It should be a place where they feel comfortable and can relax.
When designing a backyard, many different things need to get considered. The first thing is the size of the area that homeowners will use for the backyard. This step will determine how much they can place furniture and other items in the area. The second thing to consider is the type of climate the site has. If the site is prone to extreme weather conditions, it is essential to choose materials that can withstand them. Finally, deciding what activities the homeowners want to use the backyard for is vital. Once you have all those things, you can set up the relaxing backyard of your dreams. Here are a few features to consider to get your blueprint started.
Outdoor Amenities
Some homeowners prefer to have a backyard that is purely for relaxation purposes. It means including features such as a comfortable seating area, a quiet spot to read, and perhaps a minor water feature. Others may want to add a few more amenities to make the backyard more versatile. This step could involve installing a grill or smoker for cooking outdoors, adding a fire pit for warmth on chilly nights, or including a basketball hoop for some friendly competition. The possibilities are endless, and it depends on the homeowner's preference.
However, some features are beneficial for creating a relaxing backyard atmosphere. A comfortable seating area is critical, as it will be where homeowners spend most of their time. If you want comfort and aesthetics rolled into one, you can select a few unique chairs or sofas for your backyard. A comfortable outdoor hanging chair can be your best addition, making it a centerpiece in paradise at home.
Adding some plants and trees can also help to create a natural setting and provide shade on hot days. If there is space, installing a water feature can be relaxing and provide peaceful background noise. Ultimately, it's up to the homeowner to decide what they want their backyard to include and how they want it to feel. People can turn any backyard into a paradise oasis with the right amenities.
Outdoor Lighting
Adding outdoor lighting to a backyard can enhance the atmosphere and make it more comfortable. Well-placed lighting can create a soft and relaxing glow, perfect for winding down after a long day. You can also use it to highlight specific features in the backyard, such as the pool or a beautiful garden.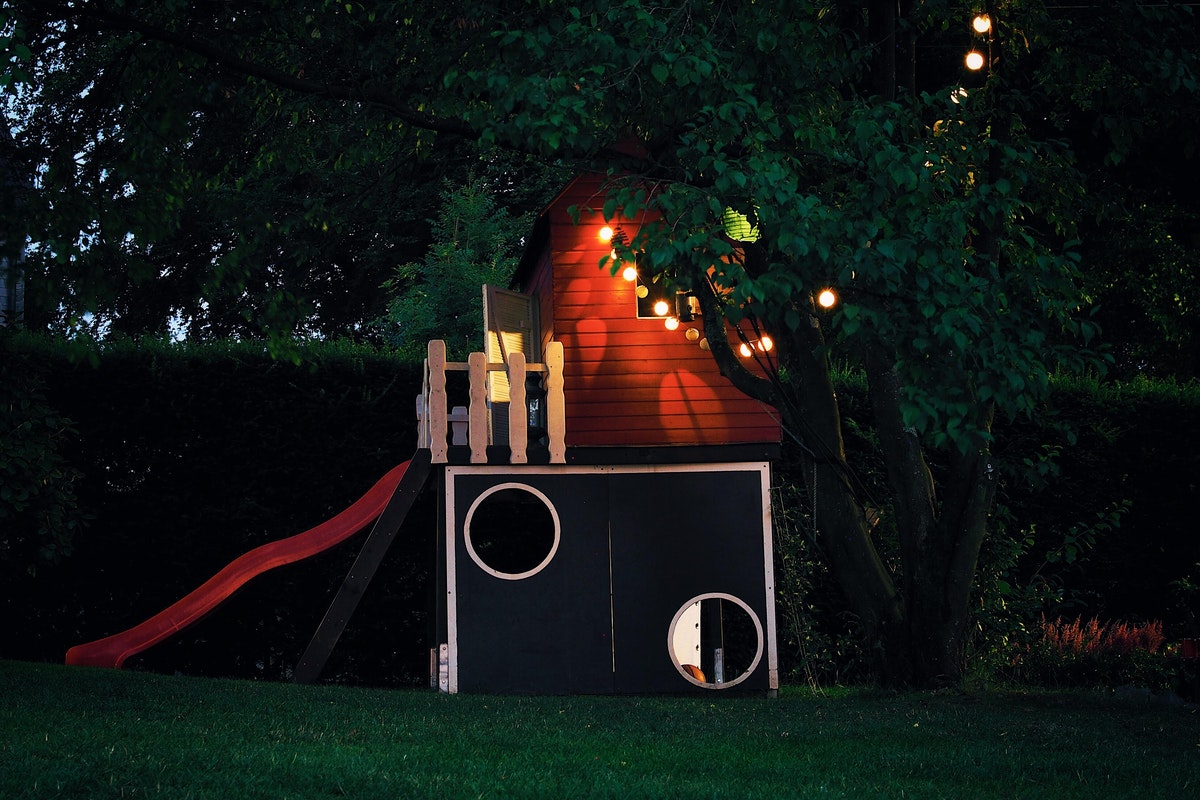 When selecting outdoor lights, it's essential to choose something that will be weatherproof. LED lights are a great option, as they are durable and long-lasting. They also emit very little heat, which is ideal for use outdoors. When placing the lights, it's essential to consider how homeowners will use them. If you want to highlight a specific area, put the light directly on it. If you wish for general illumination, try to place them around the perimeter of the backyard. It will provide a lovely ambiance and make it easy to see what you're doing.
Outdoor lighting can transform a backyard and make it more comfortable for homeowners. By selecting the correct type of lights and placing them strategically, you can create an inviting environment that will be perfect for relaxation.
Security and Privacy
Depending on the location of the backyard, security and privacy may be alarming concerns for homeowners. Nosy neighbors may peer over the fence if the backyard is in a neighborhood. In this case, choosing plants or trees that will provide privacy is essential. Installing a tall fence can also help to deter peeping Toms.
If the backyard is in a more rural area, security could be an issue with wild animals. In this case, it's necessary to install a fence to keep them out. It would be best if you also considered adding a gate to the fence for easy access. Homeowners should feel safe and secure in their backyard without having to worry about intrusion from others.
Conclusion
The backyard is a blank canvas, and it's up to the homeowner to decide how they want to use it. Consider your needs and wants if you're looking for ideas on what to include in your backyard. You can start planning and designing the perfect outdoor space for you and your family. Don't forget to add outdoor lighting to create a warm and inviting atmosphere. And finally, make sure you take security and privacy into consideration to ensure that everyone feels safe in the backyard. With these things in mind, you can turn any backyard into a paradise oasis.