Designing the interior of commercial properties is tricky. For starters, it must be cost-effective and efficient. At the same time, it should create an engaging and unique experience. And to make things even trickier, design trends continually evolve. So businesses must learn how to adapt to modern interior designs to cater to the current tastes of their employees, visitors, and clients.
If you're looking to spruce up your office's interiors, here are some commercial interior design trends this year:
Sustainability and Green Living
Creating a sustainable commercial space is not just about creating a green space through natural light, plants, and green walls. You can incorporate many other sustainable practices into your office, such as the following:
Use LED lights. You can save as much as 80% on energy by swapping your regular light bulbs with LED lights.
Add recycling bins. Placing recycling bins along major hallways and high-trash areas, such as the pantry and the kitchen, helps encourage employees to join in the company's sustainability practices.
Use sustainable fabrics. Make sure to invest in furniture that uses sustainable fabrics, such as bamboo, organic cotton, and recycled plastics.
Unexpected colors and patterns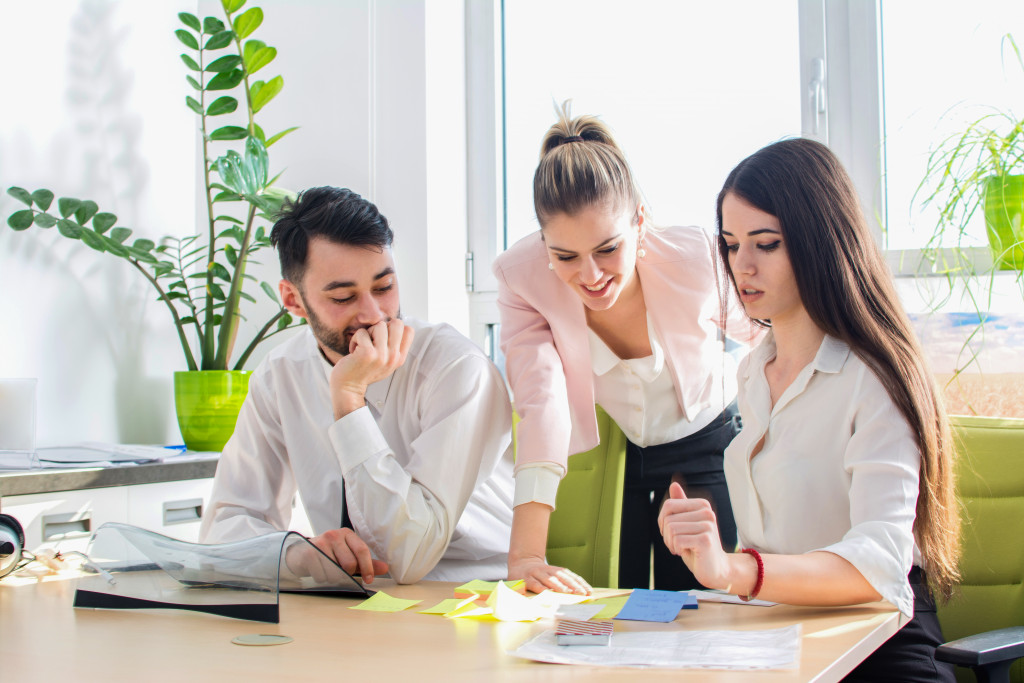 Monochromatic gray is no longer a thing today. If you want to keep your office space neutral, you can play with other tones and shades like metals and mixed woods. These colors keep the palette simple but add a splash of unique design to the workplace.
If you want a bit more color in your office, you can paint the wall with bright colors. Adding a wallpaper with a bright, geometric pattern is another way to incorporate a mix of bold colors to your office. Colorful furniture, such as bright-colored chairs and couches, perfectly complements those vivid walls.
Fun and Comfortable Workspaces
More and more offices are now following the initiative of co-working spaces to make the workplace less formal and austere. However, if your company is not suited for a co-working environment, you can try these subtle changes to give your workplace a more carefree vibe.
Redesigned cubicles. Lowering the partitions for each cubicle can help employees see each other, making them feel less isolated. You can also add a touch of color on the cubicle walls to lighten up the mood. Or you can completely replace partitioned desks with circular workstations to encourage your employees to communicate with each other.
Lounge spaces. Replacing unused desks for a few coffee tables and couches can create a more laid-back, flexible workspace.
Quirky combinations
More and more interior designers are incorporating unexpected design combinations to add a touch of quirkiness and uniqueness to each office space. An example of this is the rising popularity of non-matching floor tiles. Though this might sound strange, it can look amazing when appropriately applied.
A beautiful office is not just for aesthetic purposes. It can also help boost the productivity of your employees. Of course, nobody wants to work in a drab and dreary place. Plus, it shows your clients how much you take your business seriously.