A sunroom or a patio is a perfect structure to enjoy your lazy days and weekends. However, depending on the weather, design, and construction materials, it may get your energy bills going up so high. Besides, if it gets too hot or cold, you will be very uncomfortable in the space. This article provides a few ideas on how you can control the patio temperature and keep energy bills low.
Get the Right Retrofits
Depending on the design of your patio, you may add some features to prevent the loss of entry of heat into the room. First, look at the type of glass you have used. It should be thick enough to moderate temperatures inside. If it is not, consider changing it for a thicker one. You may also add a tint film to minimize the glare and block UV sun rays. Second, you can always add a weatherization kit to your glass at the start of winter. These layers of plastic prevent the heat from escaping. Third, consider having a ceiling fan to circulate cool air during summer. You can invert the blades during winter to circulate the heat.
Insulate Your Patio
You should insulate everything from the roof to the floor. If building your patio from scratch, purchase materials that are easy to insulate. Since much of the heat is received and lost via the roof, insulated roofing panels are a vital addition to your building structure. You may also consider installing a sub-floor to help prevent heat loss to the ground. For closed designs, go for a heat-efficient door and add insulation materials between the glass panels. Insulation works during both the hot and cold weather to ensure the outdoor climate does not mix with the indoor one.
You may also consider installing an HVAC system if you would like the patio to be usable all year long during the day and night. When HVAC is combined with insulation, you will not have to overwork the system to reach the temperatures you want for the room.
Install a Solar System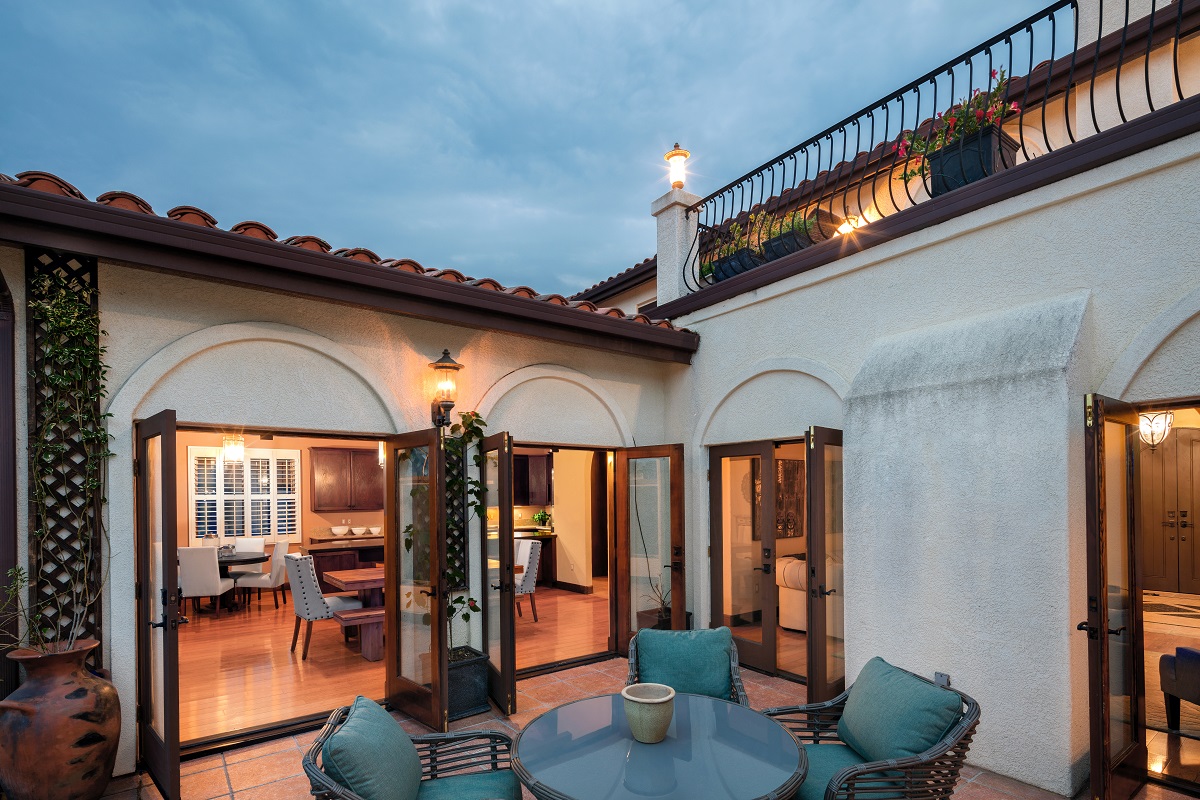 Solar-powered lighting system and fixtures is a great way to save on energy. Since most patios do not have heavy equipment, most of them can operate exclusively on solar energy. The savings you make on your monthly bill over the years will cover the cost of installation. Besides, the cost of installing one is not too high, and you may benefit from government tax reliefs.  Go for a solar system that can last between eight and ten hours after daylight charging.
 An Energy-Efficient Patio Is Also Comfortable
An energy-efficient patio is also comfortable as it remains at the right temperature regardless of the season. If you already have a patio in place, you can add features to enhance its energy efficiency. On the other hand, if you are building one, plan your construction with both the comfort and energy efficiency in mind. This article provides some ways you can lower your bills and enhance comfort, but it doesn't hurt to talk to a professional for more tips.