As a homeowner, you're always looking for ways to improve your property. Maybe you want to update the kitchen or add a new bedroom. While these are undoubtedly important projects, there are other areas of your home that you may not have considered, which could also use some attention.
According to estate agents, potential clients are looking for specific property improvements. In this article, we'll discuss such areas and provide tips on how to go about fixing them up to improve your home's value.
Walls
Walls, especially older houses, will begin developing problems over time. Salt deposits from the air can cause cracks and blisters, and discoloration. That is why it's recommended to repaint your walls every three to four years because even if you don't notice any problems now, they can develop later on.
If you're going to repaint your walls, however, make sure that it's a color that complements the layout of your home. Choose brighter colors that tend to open up a room for better results. You can ask for advice from your interior designer about the best color palette for your home. Keep in mind that while painting over existing paint is usually okay, it may still chip off eventually when exposed to water or humidity.
Ceilings
Like walls, ceilings will also begin to develop problems. For instance, you may have some stains on your top, which can result from a leak in the roof or above pipes. Since ceilings are high up, it's more challenging to see such problems, so if you have an attic or crawlspace, take a look around and inspect for any signs of damage.
Ceiling fans are gaining popularity not only because they provide a better breeze but also because they help to circulate air. However, older models can be loud and make it difficult to get a good night's sleep. If you have noisy ceiling fans in your home, consider getting new ones that run more smoothly and quietly or get them fixed if the problem is with the motor rather than the blades.
Windows
It's not uncommon for windows to get stuck after years of use. Over time, the weather strips dry out or warp and can cause problems like sticking or excess noise when you open them.
Most homeowners don't give much thought to their windows until they realize that they're not doing an adequate job of keeping heat and cold air out or letting in light. If your windows no longer provide you with this function, start shopping for new ones that fit your needs. However, you'll need a pro to check for drawbacks in your home's structure if you want to learn about potential energy efficiency problems before going ahead with a replacement.
Fixtures and Faucets
As newer homes have been built, old faucets and fixtures become outdated. Many people may not even be aware that alloy or PVC faucets exist.
If your fixtures and faucets are beginning to show signs of wear, consider consulting a plumber to see if you can upgrade them to something more water-efficient. If you're determined to replace them yourself, remember to turn off all the water valves beforehand.
Flooring
Over time, tiles and wooden flooring can develop problems. If you find that your tiles are warping or your wood floors are becoming more porous, it's probably time to start shopping for replacements if they're beyond repair. It would help if you also were on the lookout for termite infestations as these insects can quickly destroy floorboards.
If you're not sure what type of flooring to replace your worn-out tiles with, carpet can provide better insulation than tiles and wood while giving your home a fresh look at the same time. Just be sure that it's installed properly to avoid health problems down the line or because it can come loose if it's fluffed too much.
Curbside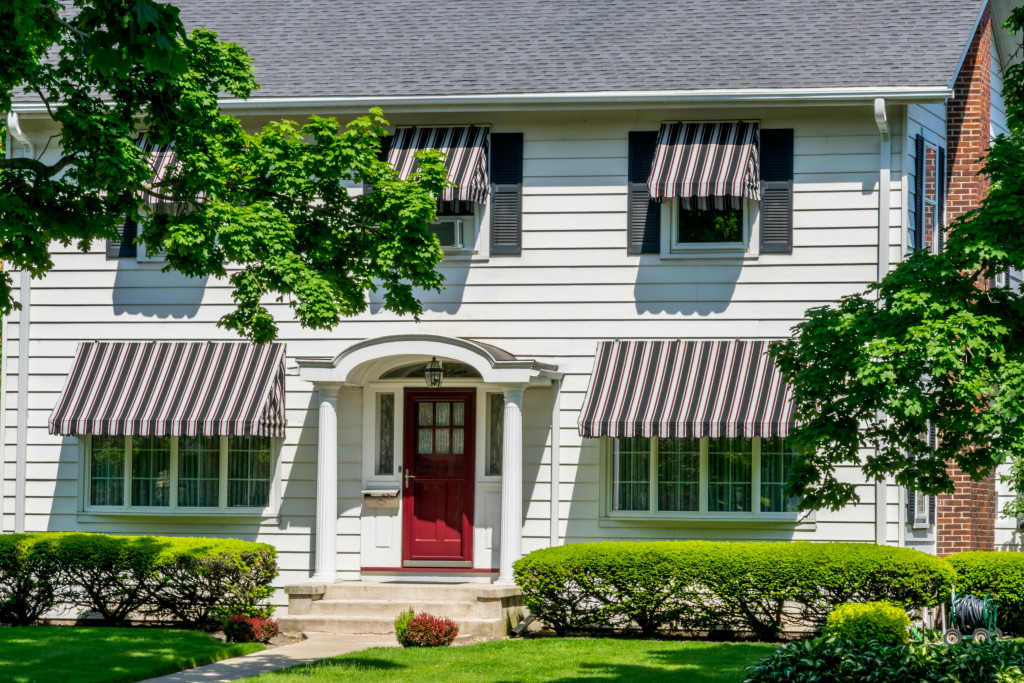 Curbside appeal is essential when selling your home. So if you're planning to put your property on the market, be sure that it's in tip-top shape. You can ask a landscaper or gardener to see what could be done for your yard and whether it'll be enough to entice potential buyers.
If you're not planning to sell just yet, but are staying within a reasonable budget, then the least you can do is keep up with house maintenance to help maintain its market value.
So, as you can see, there are several things you can do to improve your home – both inside and out. Whether fixing a leaky roof or getting new windows installed, these projects are well worth undertaking. Not only will they make your home more comfortable to live in, but they'll also help to maintain its value over time.