Fixer-upper homes come with a lot of potential. They give people a chance to become new homeowners for less than the cost of having a house built from scratch. Nevertheless, they also come with the need for certain repairs and upgrades.
Before You Start Renovating
Your safety should always be your number one priority. Have your property thoroughly inspected by professionals. This includes checking your plumbing, electrical wiring, roofing, and the overall foundation of the house. Any potential major issues, like fire hazards and plumbing problems, should be addressed first. Caring for the overall structure now will give you peace of mind in the long run.
Once that's taken care of, it's time to refresh your fixer-upper home. Here's how:
Change the Flooring
Having new flooring installed can easily brighten up your home. Logistically speaking, it's best to change out your flooring before you move on to other projects. Putting this on top of your priorities allows you to get it out of the way before even moving in all your belongings and other heavy pieces of furniture.
Depending on the overall design you want to achieve, you can either opt for high-quality hardwood flooring, tiles, or vinyl planks. Remember that the color of your floors drastically affects the overall mood of the room. Choose one that can easily complement your desired wall, ceiling, and furniture color palette.
Upgrade Your Kitchen

Kitchen renovations are often postponed since they are often considered too expensive. However, it's important to realize that the kitchen is one of the most essential areas of your daily life. Having proper storage solutions and appliances consistently encourages you to prepare healthy meals and live a better lifestyle.
Think about your kitchen as an investment. You don't have to spend a fortune switching out all the cabinets, countertops, and appliances. While you can take inspiration from high-end showrooms, there are plenty of more affordable upgrades at high-volume shops that won't break the bank.
Paint the Rooms
It's normal to acquire fixer-upper houses that aren't painted in the color that you want. Do it yourself and brush on a fresh coat of paint. This often makes new homeowners feel refreshed and ready to tackle other projects afterward. It hides imperfections and gives each surface a fresh start and serves as a symbol for this next chapter of your life. Have fun with it and let your personality shine through, whether that's by painting an accent wall or updating cabinets and doors.
Get New Windows
A fixer-upper's old windows could potentially have air leaks. This means that while you may opt to keep the existing windows, your heating, ventilation, and air conditioning (HVAC) system may be working extended hours. Having new windows installed could save you from getting expensive utility bills in the long run.
Switch Out the Light Fixtures
When you buy a fixer-upper house, there's a really high chance it'll come with old and outdated lighting fixtures. Changing out your lights can easily be an upgrade that's worth a minimal expense but maximum value. A different light fixture almost completely alters the look of your space. In just a few minutes, your fixer-upper's room can be completely transformed from being drab to fab.
Don't Forget About the Exterior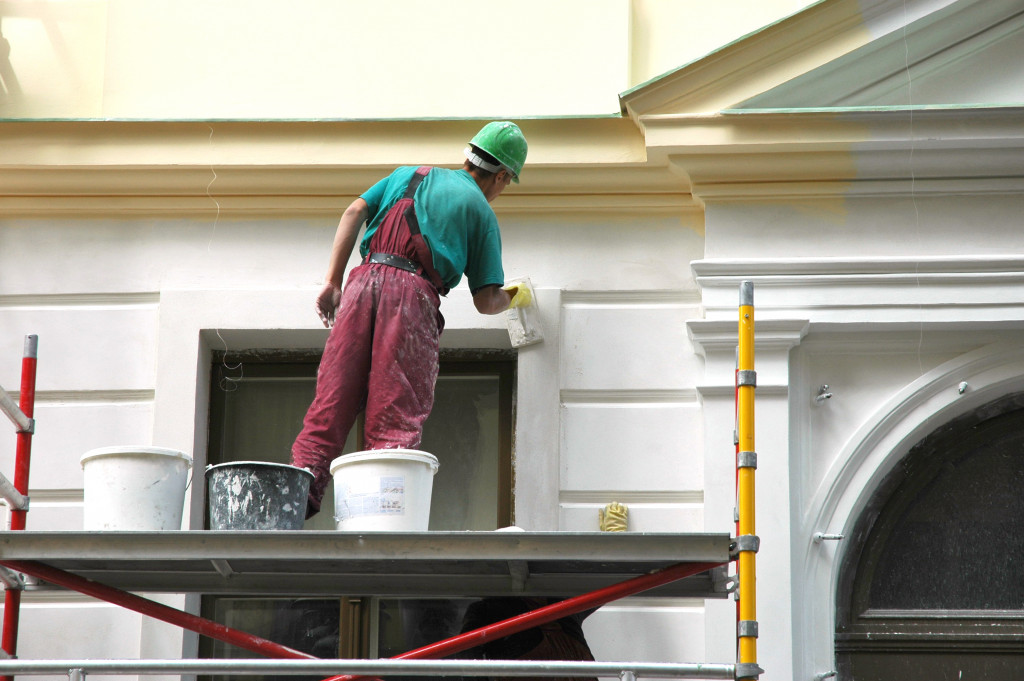 Painting the house's exterior walls and updating its roofing can easily boost your property's curb appeal. If you want to take it to the next level, you can even do some landscaping. Look for fast-growing grass seeds that can give you a stunning, brand-new lawn. You'll be glad you took the time and invested in this upgrade when you sell your home and earn thousands more.
Other Fixer Upper Improvements
No space is completely yours without some personalized final touches. Once you're done with major upgrades, continue to make small changes here and there. For instance, you can start out by checking whether your kitchen and bathroom fixtures still match the rest of your furniture.
Enjoy Your New Home
Consult with professionals and make sure your home follows all the necessary guidelines before moving in. With their go signal, it's time to be creative and work on making it into a nice, peaceful home. Take it one project at a time and really dedicate your energy to this transformation.
Once you're done with all the necessary home improvements, it's time to take a step back and appreciate how far your projects have come. Celebrate this new milestone in your life with friends and loved ones.