Your home is likely one of your most significant investments, so it's essential to ensure its curb appeal is top-notch. According to a study by the National Association of Realtors, well-maintained and nicely landscaped homes can sell for up to 7% more than their counterparts. And that's just the beginning – here are some other benefits of having an attractive home facade:
It makes your home more marketable. When it comes to selling, the beautiful home will stand out among the rest and likely attract buyers.
It increases your home's value. A well-maintained and aesthetically pleasing home will be worth more than one that's been neglected.
It improves your quality of life. An excellent exterior can boost your spirits every time you come home and can even help improve your mental health!
With so many benefits, homeowners always look for ways to enhance their home's curb appeal. Here are some of the best ways to do it.
Organized Appearance
Organizing is an underrated design element that not many homeowners think of when improving curb appeal. It does not require a lot of investments and renovations, just pure effort on maintenance and decluttering. A garden with overgrown grass, a concrete pathway with many tree debris, and a dirty wall exterior are all eyesores that can quickly turn people away. So, the first step is to clear up your lawn, pathways, and porch. If you have any old furniture or broken equipment lying around, it's time to get rid of it. Once everything is decluttered, and in its rightful place, your home will instantly look better from the outside.
Still, it can be challenging to organize your home facade because of the work attached. Fortunately, you can rely on professionals to help you out. A gardener can take care of your lawn, and a house cleaning company can keep your porch and pathways spick-and-span.
Add Some Greenery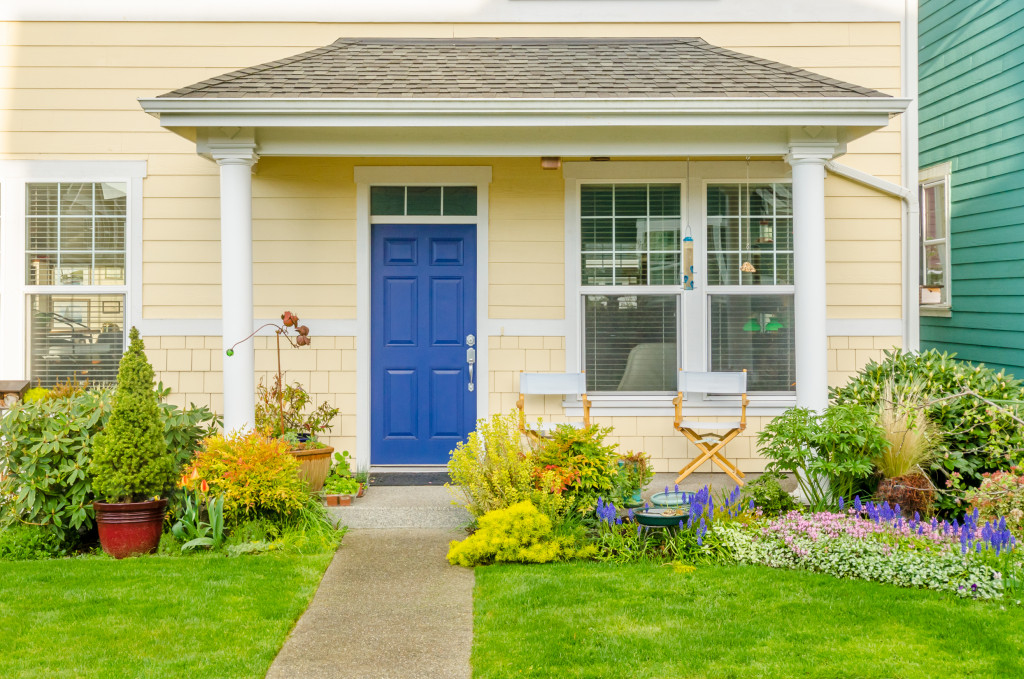 Adding some greenery is an excellent way to improve your curb appeal. Plants are always pleasing to look at, making your home more attractive and boosting your mood. You can either grow them yourself or buy them from a nursery – whichever option is more convenient for you. Some of the best plants to enhance curb appeal include:
Flowers – They come in various colors and sizes, so you can easily find the perfect ones to complement your home's exterior.
Trees – Large trees can make any home look more luxurious, but make sure to plant them far enough from your house so their roots don't damage the foundation.
Shrubs – Well-designed shrubs are low-maintenance and can add texture and depth to your landscaping.
Once you've selected the plants you want, it's time to start planting! Remember to water them regularly, especially during hot summer days. Also, don't forget to fertilize them to keep them healthy and growing.
Paint Your Home
One of the quickest ways to improve curb appeal is by giving your home a fresh coat of paint. It will instantly make it look more attractive and well-maintained. When choosing a color, pick one that goes well with your home's style. If you're unsure which hue to choose, you can always consult a professional painter. They can give you some great color recommendations based on your preferences.
Once you've selected the perfect color, it's time to start painting! If you're going to do it yourself, then make sure to prep the surface first by cleaning it and removing any loose paint. Once that's done, you can start painting – be sure to use high-quality paint, so it lasts longer.
If you don't have the time or skills to paint your home, you can always hire a professional exterior painting contractor. They will be able to get the job done quickly and efficiently while giving you peace of mind.
Update Your Hardware
One of the easiest ways to enhance curb appeal is updating your hardware. This includes your doorknob, mailbox, house numbers, and light fixtures. Replacing these items can make your home look more modern and stylish.
Many stores sell different hardware, so you should have no problem finding what you need. You can also find some great deals online if you know where to look. Once you've selected the new hardware, it's time to install it.
Proper lighting is also essential to improve your home's curb appeal. It can make your property more attractive and inviting, especially at night. There are many different types of lights you can use, including:
Spotlights – They can highlight specific features on your property, such as trees, statues, or fountains.
Landscape Lights – These are perfect for lighting up pathways and gardens.
Pendant Lights – They're a great addition to porches and patios, providing both style and function.
When choosing light fixtures, pick ones that complement your home's style. It would help if you also considered the wattage to ensure that they provide enough light without being too bright. Once you've selected the perfect glow, it's time to install them. If you're not sure how to do it, then you can always consult with a professional contractor.
Final Thoughts
These are some of the best ways to improve your home's curb appeal. If you implement these tips, you're sure to make your property more attractive and inviting.